Reproduction of near-constant temperature and humidity
testing environment with Air-HAST (option for M/MD type only)
Depending on the specimen, not only water steam but also oxidation and other specimen surface conditions can cause failure.
By leaving air in the test area, the Air-HAST function adds air to the high-temp, highhumidity, and pressurized environment for effective accelerated testing of specimens for which the oxygen in air affects degradation, such as with surface oxidation. (Acceleration may not be seen for some specimen.)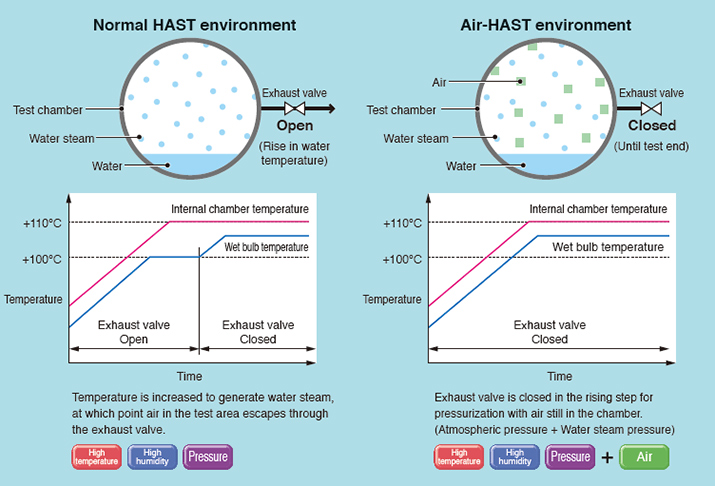 Whisker humidity-resistance evaluation testing (Japanese patent No. 5066143)
Evaluation examples for whisker evaluations of mounting boards are limited. One of the main reasons for this is because the testing time can be as long as 1000 or 3000 hours.
To shorten these testing times, ESPEC conducts lead-free solder whisker evaluation of mounting boards using Air-HAST. The results confirmed accelerated effects with testing at 85°C and 85%rh humidity.
Accelerated testing examples for whisker evaluation
Temperature cycling test
-40°C ↔ +85°C
3000 cycles
High temperature and high humidity test
+55°C / +85%rh
3000 hours
+85°C / +85%rh
1000 hours
Air-HAST
+110°C / +85%rh
200 hours
Recommended products for customers viewing this product