Laboratory Testing Services & Consulting
ESPEC provides a comprehensive range of client reliability test services, drawing on our many years of experience and an extensive track record.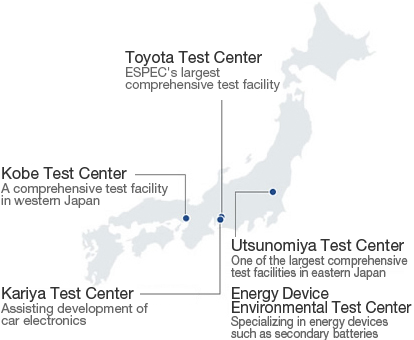 As well as selling environmental test chambers, ESPEC has a long history of environmental test research and test method development.
Drawing on this extensive experience and track record, we assist clients with reliability tests, quality evaluation tests, development tests and safety tests. This assistance is made possible by our reliability evaluation technology, and test technology accumulated in fields as diverse as vehicles, semiconductors, electronic component mounting and secondary batteries.
ESPEC has four test facilities located nationwide, all of which can conduct various tests for our clients using an array of equipment. These ISO/IEC17025 certified test facilities provide highly safe and reliable test results.