Message from the President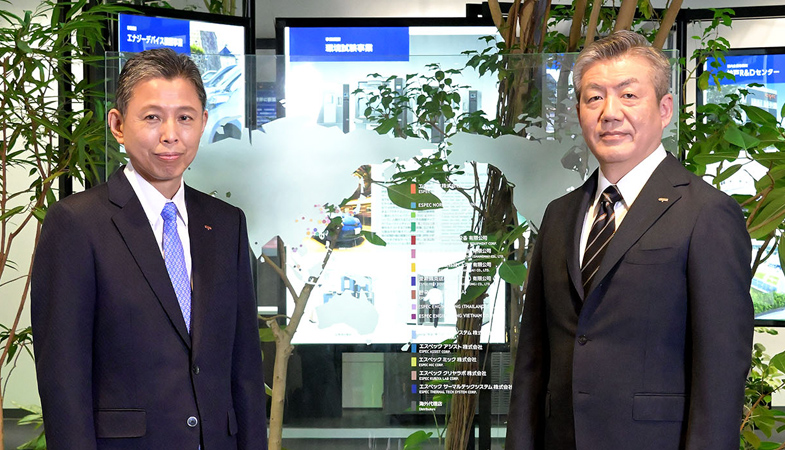 Chairperson

Masaaki Ishida

President

Satoshi Arata
Thank you for your continued support of our company.
ESPEC was founded in 1947, and in 1961 we became the first company in Japan to successfully develop environmental test chambers. Since then, we have continued to lead the industry as pioneers of environmental testing in Japan. We have also strived to expand ESPEC's global reach with a focus on overseas markets from an early stage, and with the development of more advanced technologies, we have become the world's leading environmental test chamber manufacturer. Currently, we have 20 Group companies in Japan and overseas, and overseas sales make up about 50% of our total sales. We were included successively in 2014 and 2020 in the Global Niche Top Companies Selection 100 List by the Ministry of Economy, Trade and Industry.
ESPEC began working toward the company's long-term business vision, ESPEC Vision 2025, with the start of its medium-term management plan in 2022. Harnessing the progressive spirit long-cherished since the company's founding, ESPEC will continue to undertake new challenges while aiming to be an "essential presence for global cutting-edge technologies." ESPEC Vision 2025 also sets forth a new vision for the company going forward: "A growing company overflowing with creativity and vitality." Our goal at ESPEC is to achieve sustainable growth through the creation of a free-yet-challenging corporate culture that allows its diverse employees to share their varying views, thereby opening the door to opportunity even in the midst of uncertainty.
Society today faces a wide range of challenges, including climate change. Even under such circumstances, ESPEC will continue to work toward solving society's pressing issues through its business activities with a central focus on Environmental Creation Technology.
We appreciate your continued support in this effort.