Message from the President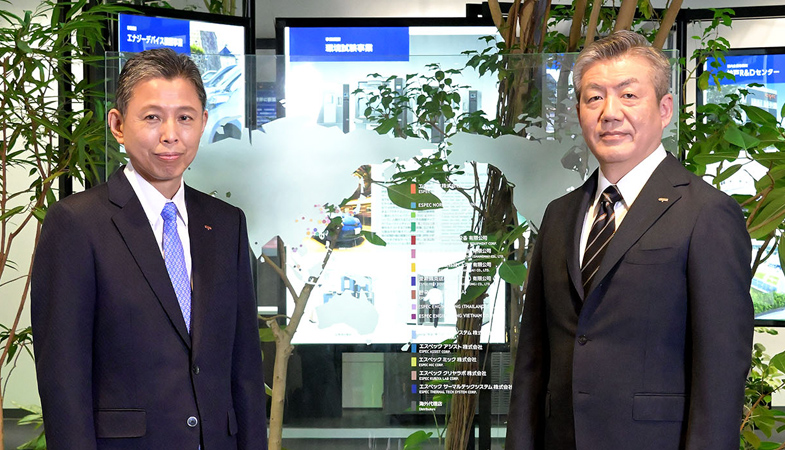 Thank you for your guidance and support for our company.

ESPEC first started business in 1947 to manufacture laboratory instruments. Ten years later, the company boldly changed its course to the field of environmental testing, which is our present core business. Back then, no one in Japan had ever heard the term "environmental test chamber." Under the motto "Do things a bit differently, before anyone else," we succeeded in developing the first-ever environmental test chamber in Japan.
An environmental test chamber is a device that artificially replicates various environmental factors such as temperature, humidity, and pressure. In this field crucial to the advancement of state-of-the-art technologies, ESPEC will continue to lead the industry in Japan as a pioneer, and as the world's top environmental test chamber company, customers throughout the world are using our products. Currently, we have 20 Group companies in Japan and overseas, our global network includes 45 companies represented in 50 countries around the world and overseas sales make up more than 40% of our total sales. We were included successively in 2014 and 2020 in the Global Niche Top Companies Selection 100 by the Ministry of Economy, Trade and Industry. Going forward, we aim to be the "essential presence for global cutting-edge technologies" called for in our long-term business vision, ESPEC Vision 2025, so that we can contribute to advanced technological development around the world.
The spirit of "Do things a bit differently, before anyone else," long-cherished since our founding, has become the identity of our progressive and enterprising spirit, and serves as the driving force behind the many challenges ESPEC faces. From our founding, we have maintained a strong hope of being a player that contributes to scientific and technological progress in society. These values together form our corporate philosophy of "THE ESPEC MIND," and are shared by each and every employee.
Society is currently confronting various problems such as the coronavirus disease (COVID-19) pandemic and climate change. We will continue to use environmental creation technologies as our core business to contribute to the resolution of social issues.
To this end, we appreciate your continuous support.