Fair and Transparent Management
Corporate Governance
Basic Stance
The Company firmly believes that a corporation is a public institution, or a social apparatus with roles and functions for fulfilling people's wishes and living up to the expectations of society. Based on this philosophy, the Company aims to become a highly efficient corporate medium for exchanging value. Accordingly, the Company shall provide all stakeholders with higher value through the mutually beneficial relationships it builds with shareholders, customers, business partners, employees and all other stakeholders it interacts with in the course of conducting its corporate business activities. By continually enhancing corporate governance with this philosophy as an impetus, the Company shall realize sustainable growth and enhance corporate value over the medium to long term, while fulfilling its social responsibility to stakeholders.
The Company has formulated and announced its Basic Policy on Corporate Governance, which outlines the basic stance of our Corporate Governance Code, and the policies for implementing each principle.
Corporate Governance Structure
ESPEC is a company with an Audit & Supervisory Board. Auditors participate in the Board of Directors as well as in important committees and conduct appropriate audits. As of 23 June 2021, the Board of Directors is composed of eight members, including two outside members, and the Audit & Supervisory Board is composed of four auditors, including three outside auditors. The tenure of a director is set at one year, under which management responsibilities are defined. The two outside directors and the three outside auditors are registered with the Tokyo Stock Exchange as independent members.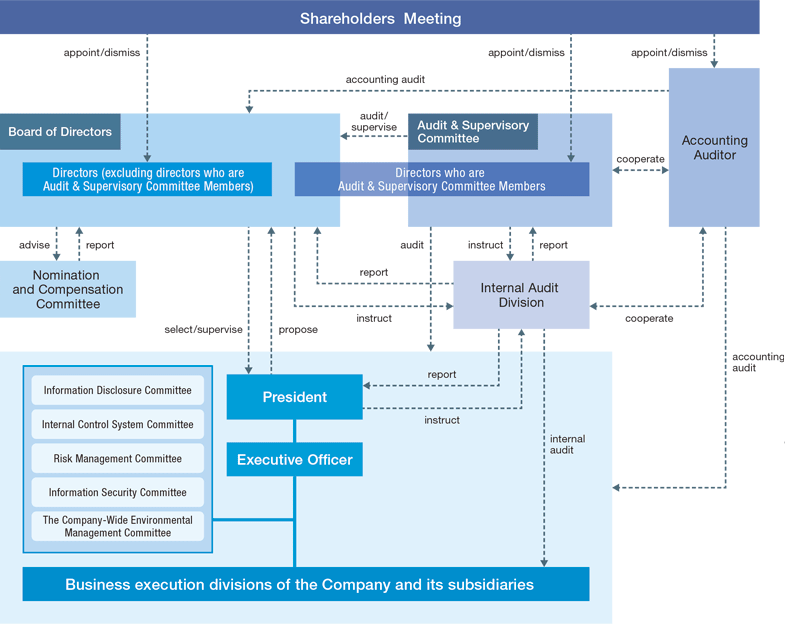 Assessing the Effectiveness of the Board of Directors
Assessments are carried out to evaluate the effectiveness of the Board of Directors. In FY 2020, a survey-type self-assessment was carried out concerning the Board of Directors composition, roles, operation, and support. Interviews were conducted based on the responses, and were evaluated at a Board of Directors meeting in April 2021.
Corporate Governance Report
ESPEC has submitted a Corporate Governance Report, in which our corporate governance status is described, to the Tokyo Stock Exchange.
Compliance
Basic Stance
ESPEC not only abides by law, it also respects social norms as well as pursues business activities that do not depart from common sense as well as moral and ethical standards. In addition, when there are differences in the enforcement of laws in countries and areas where we conduct business activities, ESPEC enforces the laws that have the highest relevance to society. These views are set forth in Declaration, Corporate Philosophy, and other documents which explain our corporate philosophy (THE ESPEC MIND).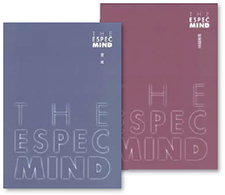 THE ESPEC MIND BOOK
Dissemination and Conveyance of the ESPEC Code of Conduct and Behavior Guidelines
In order to disseminate and convey the ESPEC Code of Conduct and Behavior Guidelines throughout the company, we have published it on our website to make it available both internally and externally. In addition to offering regular training sessions, ESPEC also distributes booklets that employees can carry with them at all times.
Establishment of a Compliance Reporting System
ESPEC has adopted Compliance Reporting Rules and created an open compliance reporting system which allows not only employees, but also customers, business partners, and other parties outside of the company to report a wide range of internal and external issues. The system is designed to ensure that users who intend to report an issue do not suffer any unfair treatment.
With the implementation of the system, we aim at preventing unfair practices and other dishonest acts as well as promoting early detection and resolution of issues in order to further strengthen our compliance system.
Training with Regard to Insider Trading
ESPEC has adopted Insider Trading Administrative Rules and is enforcing illegal insider trading prevention. ESPEC uses training material prepared by the Tokyo Stock Exchange to train its employees. In addition to making sure all employees of ESPEC acquire basic knowledge about insider trading, we have verified that all relevant rules are still in force.
Risk Management
Risk Management System
At ESPEC, the process of identifying and assessing company-wide risk is performed and reviewed by the respective department and a sub-committee. The results are then discussed and approved by the Risk Management Committee.
In addition to applying corresponding Risk Management Rules, Crisis Management Rules, and other rules to particular risks, the Board of Directors and related committees evaluate and consider, as needed, the various risks, and take appropriate and timely measures at the respective department level.
Information Management System
In order to ensure information security and allow the effective use of information, we have established the following information management rules and are carrying out complete management: "Basic Information Security Policy," "Information Security Management Rules," "Personal Information Protection Rules," and "Specific Personal Information Management Rules."
●ESPEC Acquires ISO 27001 Information Security Certification
In FY2019, ESPEC acquired the international certification standard ISO 27001 in Information Security Management Systems (ISMS).
[Overview of Certification Registration]
| | |
| --- | --- |
| Registered Organization | ESPEC CORP. |
| Applicable Standards | JIS Q 27001:2014(ISO/IEC 27001:2013) |
| Certificate of registration No | JSAI165 |
| Date of Initial Registration | December,16,2019 |
| Accreditation Body | JSA Solutions Co.,Ltd. |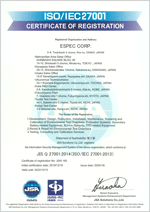 Basic Stance on an Internal Control System
An internal control system has been implemented to serve as a basic policy to retain the trust and confidence of stakeholders and society as a whole by developing the necessary systems and frameworks to ensure that decision-making and business execution are undertaken appropriately and in compliance with laws and regulations, the Company's Articles of Incorporation, as well as internal rules.
Efforts to Exclude Anti-Social Forces
With respect to the ESPEC Behavior Guidelines, as a basic policy on the exclusion of anti-social forces, ESPEC will resolutely stand up against anti-social forces and groups that pose a threat to social order and safety and obstruct sound economic activities, and will refuse to become involved monetarily or in any other way with any and all illegitimate requests.
In addition to establishing a supervisory division and appointing officers responsible for refusing illegitimate requests, ESPEC is a member of the Osaka Prefecture Corporate Defense Council. As a cooperative effort with the police and other member companies, ESPEC is also striving to collect and exchange relevant information.
Earthquake Countermeasures
ESPEC has adopted Crisis Management Rules as well as Earthquake Countermeasure Procedures, and has made its emergency response known to all employees in order to ensure the continuity of business operations and the safety of all employees in case a massive earthquake. In addition to stocking emergency rations and other disaster stockpile items at all domestic business offices, ESPEC conducts regular disaster drills.