Industrial Ovens Ultra-High Temperature Chamber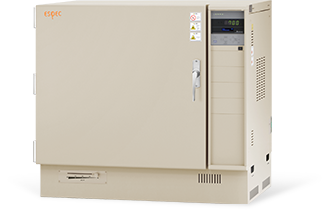 Overview of Equipment
Temperature control up to +500°C or +700°C
2 models available depending on applications: up to +500°C for high temperature life tests or heat resistance tests; up to +700°C for ceramics baking process, or heat resistance tests for highly functional glass and hybrid polymer materials.
The +700°C-type features ceramic fiber and aluminum foil for heat insulation. Various safety mechanisms and protection devices are equipped as standard.
Specifications
Please scroll horizontally to look at table below.
Model
Temperature range
Inside/Outside
dimensions(mm)
STPH-102
Ambient temp. +20°C to +500°C
W450×H450×D450 /
W1190×H1110×D795
STPH-202
W600×H600×D600 /
W1340×H1260×D945
SSPH-102
+100°C to +700°C
W450×H450×D450 /
W1190×H1110×D795
SSPH-202
W600×H600×D600 /
W1340×H1260×D945
* Specify M-instrumentation for temperature programs with three or more steps.
Features
Saving-energy insulated structure (SSPH only)

Ceramic fiber and aluminium foil are used as insulation materials. It increases effective insulation and prevents heat loss, thus saving energy.

A Double seal gasket configuration (SSPH only)

A gasket made of stainless steel fiber and a leaf spring are used to form a double seal between the door and the chamber. Prevents heat radiation on door.

Door equipped with a single-action lever

The door can be firmly locked by an easy-to-use single-action lever.
Recommended products for customers viewing this product