R&D and Technology
On the theme of new "potential"
Creating innovative technologies and products that lead the next generation
ESPEC responds to our clients' new reliability testing needs in advanced technology fields with solutions based on the development of innovative technologies and creative new products.
For example, we are developing testing methods in the fields of IoT, electric vehicles, and autonomous driving through joint research and development of new technologies such as HALT with universities and companies. Moreover, in the automotive and electronics fields, we are involved in international standardization activities for environmental testing standards, working with governments and industrial organizations to establish international standards. When it comes to product development, we are continuously developing not only high-performance, high-quality, and energy-saving products, but also Japan's first products equipped with low-GWP (global warming potential) refrigerants and those that meet international needs. ESPEC will continue to strengthen our technological capabilities, promote open innovation through collaborations between industry, academia, and government entities, and develop cutting-edge technologies and products that will lead the next generation.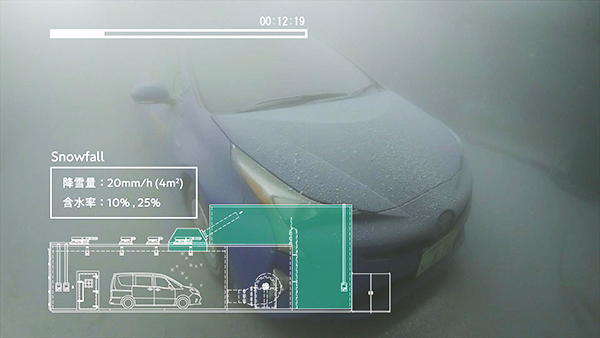 ESPEC's technology capacity
Core technologies
● Environmental factor technology
● Refrigerating and air conditioning system technology
● Sensing and control technology
● Testing and analysis technology
In order to replicate all types of meteorological environments on earth, we have various technologies that replicate environmental factors, and our superior technology allows multiple environmental factors to be replicated simultaneously. Environmental factors that we can replicate include rain, fog, snow, wind, and light, in addition to temperature and humidity. Our core technology for replicating temperature and humidity is used in refrigerating and air conditioning system technology. We have developed our own high-performance refrigeration and air conditioning systems in order to replicate uniform temperature and humidity environments in short periods of time for all types of specimen. Sensing and control technology is the brain of our environmental testing chamber, and we have developed controllers that control various environmental factors with high precision and high efficiency, which are easy to use and very expandable. In the area of testing and analysis technology, we analyze the impact of environmental test stress on specimen in terms of physical properties, and from the perspective of thermophysics, we conduct research on how to apply appropriate environmental stress and reflect the results in our products.
Peripheral technologies
● Network system technology
● Electronic device measurement and control technology
● Mixed gas precision control technology
By combining core technologies with various peripheral technologies, we have created test systems that serve a variety of purposes. Our network system technology, which responds to the digitization of environmental testing, not only centrally manages environmental testing chamber, but also evolves the testing environment for our customers by combining it with specially developed cameras that monitor the inside of the chamber. In the field of electronic devices such as semiconductors, electronic components, and lithium-ion batteries, we have independently developed evaluation testing systems and screening systems that integrate environmental testing with measurement and control technologies. Our technologies cover a wide range of areas, including device drive control, measurement of characteristic values, and charge/discharge control. In lithium-ion battery testing, we also consider safety and provide enhanced our security mechanism technology by utilizing our own testing technologies. At ESPEC, our goal is to further evolve the technologies we have already developed so they may someday attain status as one of our core technologies.
Kobe R&D Center
An R&D Center promoting open innovation
This center conducts ESPEC's own technology development and new product development as the base of our R&D activities. We have established the world's first "All Weather Simulation Chamber" that replicates various weather environments on earth, and by opening this facility to our customers, we are working to sophisticate our environmental creation technology via open innovation. It also encompasses the Kobe Test Center, which has been certified as an ISO/IEC 17025-compliant test center and a plant that manufactures Temperature (& Humidity) Chambers. All the power used in the center is derived from renewable energy. Moreover, the premises feature a forest in which approximately 30,000 native plants are planted and grown by our employees, a biotope, and a rooftop greenery, all of which are used as places to disseminate our efforts toward biodiversity preservation and to raise awareness of the environment.
Year operations started: 2001
Total area: 31,911m² *Including area with facilities
Kobe R&D Center

5-2-5 Kanokodai minamimachi, Kita-ku, Kobe 651-1514, Japan
TEL:078-951-0960 FAX:078-951-0967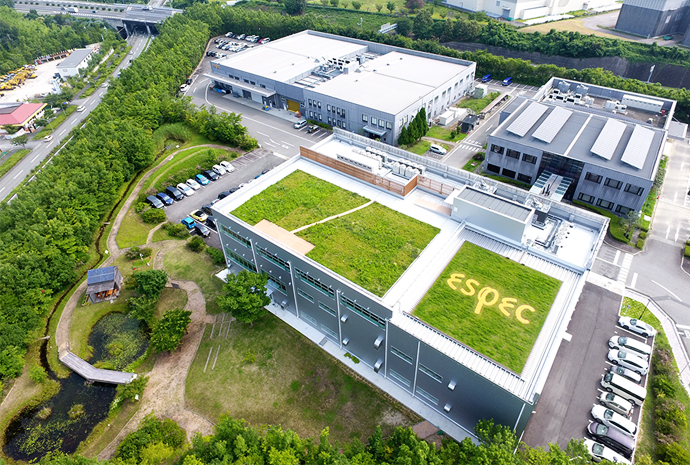 Technology Development Building
New environmental factor technologies and environmentally friendly products are being developed in the Technology Development Building, a facility based on the concepts of open innovation, open communication, and harmony with the natural environment. Here, open innovation is being promoted with the fusion of internal and external technologies through collaborations between industry, academia, and government entities. Additionally, on the green roof of the Technology Development Building, we are cultivating plants native to the northern area of Mt. Rokko to promote the conservation of biodiversity.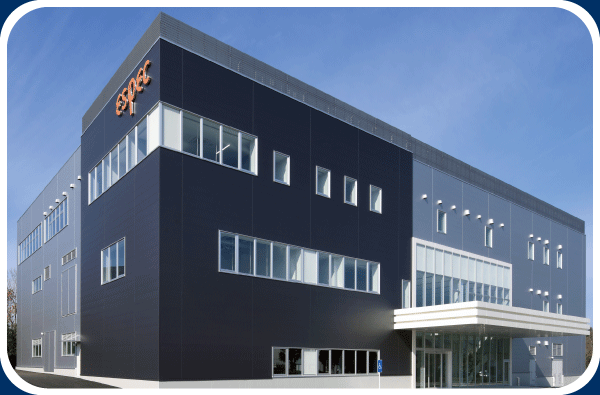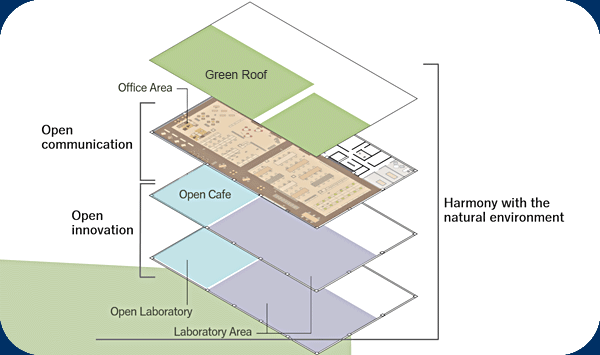 An open one-floor structure, meeting spaces, and other features create an attractive work environment that facilitates communication among engineers throughout the building. The building is also intended to act as a technical development hub and includes tour courses available on each floor, barrier-free construction, and other means of promoting open communication both inside and outside ESPEC.
[Open Cafe] A multi-purpose common space for business meetings with visitors, exchange of ideas, etc.

[Open Cafe] With an area of 340 m², seminars with up to 300 participants can be held

[Idea Lounge] Relax on the sofa and deepen your ideas

[Idea Lounge] Discussions across departments can happen easily

[Meeting Room] An open space connected to the work area to promote communication

The building is being used to promote open innovation, including collaboration between industry, academia, and government entities; to create various meteorological environments needed for practical application of the motorization and automatic operation of automobiles; and to develop products with a reduced environmental load and new fields of business such as medical care, food, and materials. In addition to making our environmental test chambers currently in development available to customers, we have also established joint laboratories to promote collaboration with venture companies, among other facilities. We hope these services will stimulate innovation by fusing internal and external technologies.
[Open Laboratory] Open laboratory for joint experiments with outside partners, where experimental results are realized

[All Weather Simulation Chamber] Can reproduce the various climatic environments on earth

[All Weather Simulation Chamber] Can control seven environmental factors (temperature, humidity, snow, rain, sunlight, fog, and wind)

On our green roof (around 700 m²), we are cultivating species native to the northern region of Mt. Rokko. This allows us to further promote biodiversity and expand our environmental conservation business. We also hope to incorporate the ESPEC forest (a forest home to native seedlings) and the biotope, both located within the facility, thereby creating a workplace where people and the natural world live in harmony. The construction of the rooftop greenery and the planting of trees is being handled by ESPEC MIC, our environmental preservation business.
Preserving Biodiversity and Training Environmental Human Resources
[Green Roof] Over 30 plant species that grow in the northern area of Mt. Rokko are cultivated

[Green Roof] A place that nurtures life, including the nesting and egg-laying skylarks

[Biotope] A diverse range of creatures including birds, insects, and fish gather here

[Biotope] You can work in a natural setting at the Kanokoya gazebo

[ESPEC Forest] The 30-cm saplings that employees planted 20 years ago are now 15 meters tall