R&D and Technology
On the theme of new "potential"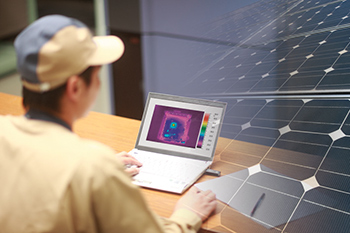 New reliability testing is necessary for innovative technology to attain the reliability. And, to evaluate innovative products, new testing and inspection methods are used. ESPEC has proposed testing methods, devices, and systems that meet these new needs via solutions comprised of "innovative technical development" and "creative new products."
For example, establishing reliability is one of the most important technological issues in the fields of IoT (Internet of Things), self-driving vehicles, and electric vehicles. ESPEC is participating in joint research activities with universities and other companies on new testing technologies such as HALT and working on the development of testing methods. We are also involved in standardization activities for environmental testing in the fields of automobiles and electronics as well as promoting international standardization for testing in conjunction with government agencies and industrial associations. As seen with such industrial-government-academia joint research, our approach for R&D varies according to the specific theme. One of the characteristics of our R&D is understanding what our customers do, sharing in their problems, and providing proposals to resolve those problems or issues. With environmental problems continuing to worsen, we are working to develop environmentally friendly products, such as the first environmental testing equipment with a low global warming potential (GWP) in Japan, in addition to our efforts to make our products more energy- efficient.
We have developed a website specialized in information on reliability technology for engineers called "Test Navi." It gives customers helpful information in practice settings, such as environmental testing knowledge, basic information on reliability technology, and the latest testing trends, at the appropriate timing. The number of members registered with "Test Navi" currently exceeds 19,570.
Kobe R&D Center
This center engages in technology development and new product devel-opment as the base of our R&D activities. It also encompasses the Kobe Test Center, which has been certified as an ISO/IEC 17025-compliant test center and a plant that manufactures Temperature (& Humidity) Chambers. The ESPEC Forest (a forest in which native plants are planted and grown) and the biotope on the premises are used as places where students, company employees, and locals can learn about environmental preservation.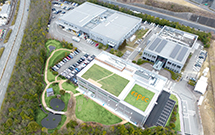 Technology Development Building
This facility promotes open innovation via the merging of internal and external technologies such as industrial-govern-ment-academia collaborations to develop environmental factor technologies, environmentally conscious products, and the like. On our roof, we also have a green space where we are cultivating plants native to the northern area of Rokko to promote the conservation of biodiversity.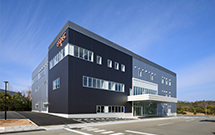 Year operations started: 2001 Total area: 31,911m²
Kobe R&D Center
Access Map
5-2-5 Kanokodai minamimachi, Kita-ku, Kobe 651-1514, Japan
TEL: 81-78-951-0960
FAX: 81-78-951-0967