R&D and Technology
On the theme of new "potential"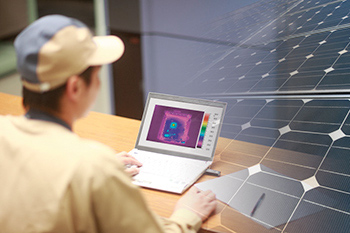 New reliability testing is necessary for innovative technology to attain the reliability. And, to evaluate innovative products, new testing and inspection methods are used. We have proposed testing methods, devices, and systems that meet these new needs via solutions comprised of "innovative technical development" and "creative new products."
For example, establishing reliability is one of the most important technological issues in the fields of IoT (Internet of Things), self-driving vehicles, and electric vehicles. We are participating in joint research activities with universities and other companies on new testing technologies such as HALT and working on the development of testing methods. We are also involved in standardization activities for environmental testing in the fields of automobiles and electronics as well as promoting international standardization for testing in conjunction with government agencies and industrial associations. As seen with such industrial-government-academia joint research, our approach for R&D varies according to the specific theme. One of the characteristics of our R&D is understanding what our customers do, sharing in their problems, and providing proposals to resolve those problems or issues. With environmental problems continuing to worsen, we are working to develop environmentally friendly products, such as the first environmental testing equipment with a low global warming potential (GWP) in Japan, in addition to our efforts to make our products more energy- efficient.
Website for engineers, "Test Navi"
We have developed a website that is specialized in information on reliability technology for engineers called "Test Navi." It gives customers helpful information in practice settings, such as environmental testing knowledge, basic information on reliability technology, and the latest testing trends, at the appropriate timing. Approximately 21,000 members were registered with "Test Navi" as of the end of FY2020.
Kobe R&D Center
This center conducts ESPEC's own technology development and new product development as the base of our R&D activities. We have established the world's first "All Weather Simulation Chamber" that replicates various weather environments on earth, and by opening this facility to our customers, we are working to sophisticate our environmental creation technology via open innovation. It also encompasses the Kobe Test Center, which has been certified as an ISO/IEC 17025-compliant test center and a plant that manufactures Temperature (& Humidity) Chambers. All the power used in the center is derived from renewable energy. Moreover, the premises feature a forest in which approximately 30,000 native plants are planted and grown by our employees, a biotope, and a rooftop greenery, all of which are used as places to disseminate our efforts toward biodiversity preservation and to raise awareness of the environment. In FY 2021, we received the Japan Greenery Research and Development Center Chairman's Award at the Factory Greening Award Program (known as the National Award for Greenery Factory.)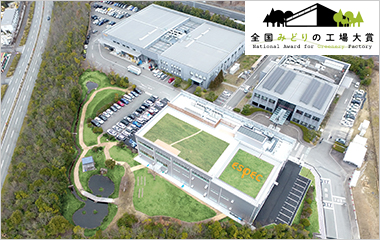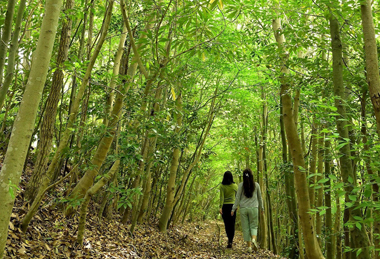 The forest where our employees planted native species of trees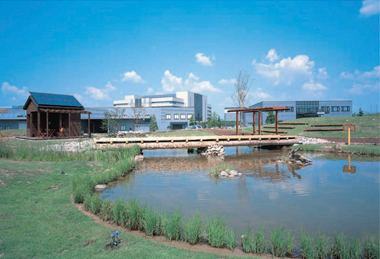 The biotope
Year operations started: 2001 Total area: 31,911m²
Technology Development Building (Constructed in 2020)
This facility promotes open innovation via the merging of internal and external technologies industry-academia-government collaborations to develop environmental factor technologies, environmentally friendly products, and the like. On our roof, we also have a green space where we are cultivating plants native to the northern area of Rokko to promote the conservation of biodiversity.
[The Three Concepts of the Technology Development Building]
1. Open communication
The Technology Development Building incorporates an integrated, open-floor configuration with plenty of meeting space and a video conferencing system that can be used for global conferences. This creates an appealing work environment that encourages communication between engineers throughout the building. The building is intended to act as a technical development hub and includes tour courses available on each floor, barrier-free construction, and other means of promoting open communication both inside and outside ESPEC.
2. Open innovation
The building will be used to promote open innovation, including collaboration between industry, academia, and government entities; to create various meteorological environments needed for practical application of the motorization and automatic operation of automobiles; and to develop products with a reduced environmental load and new fields of business such as medical care, food, and materials. In addition to making our environmental test chambers currently in development available to customers, we have also established not only joint laboratories to promote collaboration with venture companies but also a meeting area (a large conference room with approx. 340 m2) open to visitors. We hope these services will stimulate innovation by fusing internal and external technologies.
3. Harmony with the natural environment
The building includes rooftop greenery (approx. 700 m2) with native species from the northern Rokko area. This allows us to further promote biodiversity conservation as an important corporate initiative and to expand our environmental conservation business. We also hope to incorporate the building as part of the existing ESPEC forest (a forest home to native seedlings) and biotope, thereby creating a workplace where people and the natural world live in harmony. The construction of the rooftop greenery and the planting of trees is being handled by ESPEC MIC, our environmental preservation business.
Kobe R&D Center
5-2-5 Kanokodai minamimachi, Kita-ku, Kobe 651-1514, Japan
TEL: 81-78-951-0960 
FAX: 81-78-951-0967