Industrial Ovens Temperature Chamber with Explosion Vent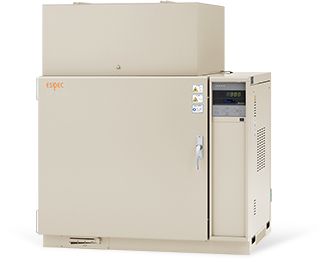 Overview of Equipment
Heat-treatment process achieved with safety
This industrial oven is suitable for heat-treatment or drying process of synthetic resins or volatile solvent. Safety features such as the explosion vent or the door lock system (single-action lever) allows operation in total safety.
Specifications
Please scroll horizontally to look at table below.
Model
Temperature range
Inside/Outside
dimensions(mm)
SPH-102
(SPHH-102)
(Ambient temp. +20)℃ to +200℃
((Ambient temp. +20)℃ to +300℃)
W450×H450×D450 /
W1040×H1260×D635
SPH-202
(SPHH-202)
W600×H600×D600 /
W1190×H1370×D785
SPH-302
(SPHH-302)
W800×H800×D800 /
W1500×H1715×D1065
SPH-402
(SPHH-402)
W1000×H1000×D1000 /
W1730×H1800×D1775
Features
Temperature chamber with Explosion Vent

This temperature chamber is suitable for drying and heat-treatment of flammable synthetic resins or volatile solvents. It is equipped with an explosion vent which releases explosion and a safety door to ensure security.

Door equipped with a single-action lever

The door can be securely locked by an easy-to-use single-action lever. Even if the operator accidentally turns on the power when door is unlocked, the door lock detection switch prevents heater fan from starting. Besides, in three minutes, the alarm buzzer sounds to call for warning.
In case an explosion occurs inside the test chamber, as shown in the above image, insulation material is bent and blown upward together with the aluminium plate to the metal screen at the top of the chamber.
This way the explosion is safely channeled and released through the top metal screen. For SPH(H)-402, explosion is released through the top metal screen by bending insulation material on the rear wall.