VAC series
Fundamental equipment for electronics production
These units has been exclusively designed for vacuum heat treatment such as defoaming, deaerating, hardening or drying, essential processes in the production of electronic components.
Eco model

Thanks to improved air-tightness and sealing capacity, the chamber achieves 20 to 40% savings in energy consumption. (Compared to previous model)

Program operation

Control programs possible by combining temperature and 5 pressure operation modes.

Variety of options

More than 20 options are available to meet customers' needs.
Specifications

Model
Temperature & pressure range
Inside / Outside dimensions (mm)
VAC-101P
+40 to +200°C (+104 to +392°F) / 933 to 1×102Pa
W450×H450×D450 / W902×H1392×D780
VAC-201P
W600×H600×D600 / W1052×H1532×D930
VAC-301P
W800×H800×D800 / W1252×H1772×D1130
LCV series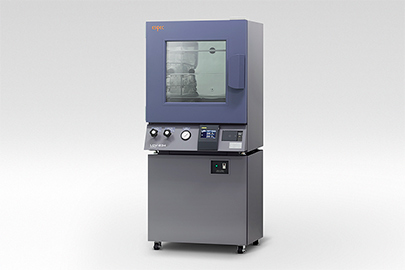 Specifications

Model
Temperature & pressure range
Inside / Outside dimensions (mm)
LCV-234
Ambient temperature to +200°C (+392F) / (Gauge) 0 to -101kPa
W450×H450×D450 / W670×H890×D735
LCV-244
W550×H550×D550 / W770×H990×D835
Recommended products for customers viewing this product