Message from the President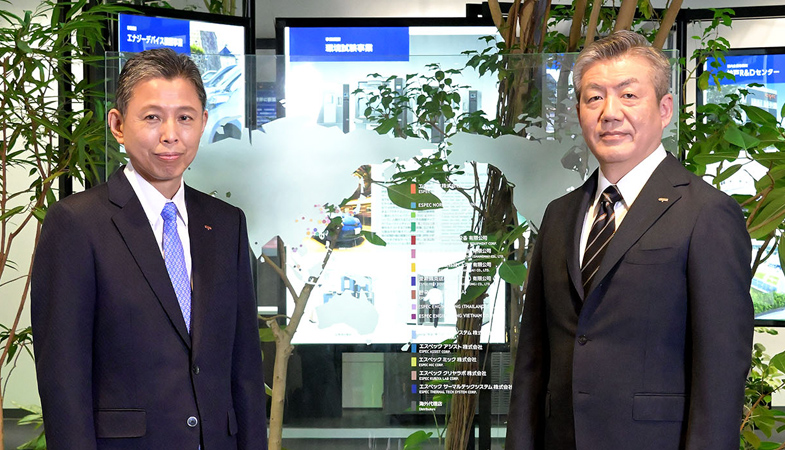 Chairperson

Masaaki Ishida

President

Satoshi Arata
Message to All Stakeholders
A start towards a new ESPEC with a progressive spirit
This year in July we marked the 75th anniversary of ESPEC's founding. With the global spread of COVID-19, intensifying climate change, a shortage of electronic components, geopolitical problems, and other challenges, social and economic uncertainty is growing. As we face many issues such as these, our company is applying the progressive spirit that we have handed down since our founding to carry out future-oriented innovations. On April 1, 2022, Masaaki Ishida stepped down as Representative Director and President to become a Representative Director and Chairperson. Director and Senior Executive Officer Satoshi Arata was tapped to take up Mr. Ishida's role as Representative Director and President. ESPEC has also transitioned to a company with an Audit and Supervisory Committee, with directors who are Audit and Supervisory Committee members having voting rights at Board of Directors. Through this transition, we are aiming to improve discussions by the Board of Directors and strengthen supervisory functions. In addition, 40% of directors are outside directors, and we have newly hired two directors who are women. Under our new management system, ESPEC has established the mission of "providing more dependable living environments through our business activities, centering on Environmental Creation Technology." We will challenge ourselves with new projects, and contribute to the creation of a sustainable society.
This year, our company also launched Progressive Plan 2025.This is the final stage of the medium-term management plans, each covering a four-year period, that aim to achieve our long-term vision, ESPEC Vision 2025. Although the business environment is difficult, we will push forward with business and organizational innovations in order to achieve this vision.
Carrying out a variety of programs to reduce greenhouse gas emissions
The intensification of climate change is an important business issue, and ESPEC has positioned it as a materiality in carrying out sustainability management. This year, we formulated the 8th Mid-term Plan on the Environment. It establishes measures to combat global warming and preserving biodiversity as key themes, and identifies four-year numerical targets which will be addressed by the entire company. For measures to combat global warming, since 2020 we have been submitting a response to CDP regarding our efforts aimed at reducing greenhouse gas emissions, and for the second consecutive year we received a B score. We have also expressed our support for the proposal of the Task Force on Climate-related Financial Disclosures (TCFD), and have disclosed information related to climate change. ESPEC is also actively introducing renewable energy, and we have switched to renewable energy for all power used at our offices in Japan.
Carrying out activities to preserve biodiversity focused on 50 years in the future
Preservation of biodiversity has been a focus of ESPEC for many years, and we have been highly evaluated for our office planning that incorporates biodiversity at the Kobe R&D Center (Kita-ku, Kobe City), which is our facility for research and development. We have also acquired ABINC Certification from the Association for Business Innovation in harmony with Nature and Community. Utilizing the corporate forest system of the Forestry Agency, we will begin creating the ESPEC 50 Year Forest on 3.7 ha of forest land owned by the national government in Sanda City, Hyogo Prefecture. This will be done as part of the events to commemorate the 75th anniversary of our founding, and we are pouring our enthusiasm into achieving continual growth by our 125th anniversary 50 years from now. As a new project for preserving biodiversity, the ESPEC 50 Year Forest will be used for environmental education of employees and local communities.
In August 2022, we concluded an agreement with the University of Hyogo for collaboration and cooperation that aims to help achieve the SDGs. We will share knowledge from both sides to create innovations and accelerate programs to combat global warming and preserve biodiversity.
Creating vitality by investing actively in human resource development and promoting participation by diverse human resources
Human resources are an important business resource, and the creation of value within individual employees leads to the creation of value for ESPEC as a whole. In the strategy for organizational development and human resource development in the Progressive Plan 2025 medium-term management plan, we are working to improve employee abilities and also to create mechanisms that allow employees to easily express ideas and proposals and to accept new challenges in order to create fulfilling workplaces. Through our new evaluation system and management style, we provide employees with opportunities to improve their skills and return to education, and will carry out innovations that will make us a company where each employee can act autonomously and grow. In addition to training women for management positions, we will create open and active workplaces where a diverse range of employees, including senior employees, foreign nationals, and people with disabilities, can participate. In addition to introducing a new system in April 2022 for senior full-time employees (limited full-time employees), in November 2021 we also opened the ESPEC Smile Farm, a farm that helps to encourage people with disabilities to work.
Aiming to achieve the goal of being "a growing company overflowing with creativity and vitality" that was presented in ESPEC Vision 2025, we are carrying out innovations that will make us a company where a diverse range of employees can grow and participate, and are deepening dialogue with all stakeholders, as we aim for continual growth.