Message from the President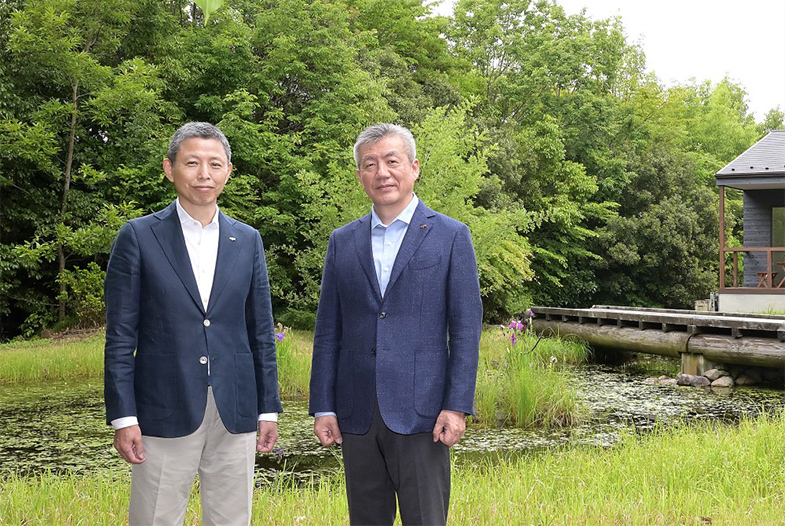 In the open cafe at the Kobe R&D Center
Technical Development Building

Continuing to be a corporation which is highly regarded by society
Now as the COVID-19 pandemic is forcing great changes on our society and economy, I expect that we will face a major test of whether our company is truly necessary to our customers and other stakeholders.
During our history of more than 70 years, we have faced several crises, including the oil crisis, the collapse of Japan's economic bubble, and the global financial crisis sparked by the collapse of the Lehman Brothers. Each time, we have drawn on the knowledge and effort of our employees to overcome them and grow. In the current crisis, we will repeatedly challenge ourselves to be a company that can adapt to a new era based on our progressive founding spirit. In order for us to always be a company that is highly regarded and trusted by society, we will continue to work actively to contribute to resolving social and environmental problems through our business activities.
Aiming to be an essential presence for global cutting-edge technologies
In March of this year, we completed construction of the new Technical Development Building at our R&D Center (Kita-ku, Kobe City). We are working to develop environmental test chambers and environmentally friendly products, and also to develop technologies in new business areas such as medicine, food products, and materials. Not relying solely on our own research and technologies, we are also working to produce innovations through fusion of technology created through collaboration among industry, universities, and government. As remote working, online medical examinations, and online learning become increasingly commonplace, society has demanded the construction of digital infrastructure, and the development of new technologies for this purpose is proceeding. Our company aims to be an essential presence for the technical development of our customers by providing the test systems needed to ensure the quality and safety of these cutting-edge technologies. Our new Technical Development Building is also based on the concept of coexistence with the natural environment. We will further reinforce our existing programs aimed at preserving biodiversity by utilizing rooftop greening that is focused on native species, the biotope constructed on our company grounds, and the ESPEC Forest. In June of this year, our company was selected by the Ministry of Economy, Trade and Industry for the 2020 edition of its Global Niche Top Companies Selection 100. This marks the second time we were selected, with the first time in 2013. Our company, which controls the top market share in the field of environmental test chambers, was chosen as a company succeeding in a niche field in a difficult business environment and faced with a changing international situation. As overseas sales account for more than 40% of total sales at ESPEC, we will continue to globalize our business as we aim to be the "essential presence for global cutting-edge technologies" called for in our ESPEC Vision 2025 plan, so that we can contribute to the advanced technical development of customers around the world.
Strengthening programs for the environment, society, and governance
Based on our company's 7th Mid-Term Plan on the Environment, we are working to find solutions to global environmental problems through our business. One of the key themes of this plan is Combatting Climate Change, and in this area we are participating voluntarily in the international non-profit Carbon Disclosure Project (CDP). We have also committed ourselves to formulating science-based targets for reduction of greenhouse gas (GHG) emissions as part of the Science Based Targets (SBT) Initiative. From January of this year, all electrical power used at the Kariya Test Center (Kariya City, Aichi Prefecture) that provides laboratory testing services has been switched to green energy produced by biomass power generation. By providing laboratory testing services that are powered by 100% green energy, we are helping our customers reduce their environmental impacts. To create an environment where our employees can work comfortably, we are prioritizing safe work during the coronavirus pandemic and accelerating our far-reaching infection prevention measures, remote working, and use of a super flex-time system. We intend to use the results from these programs to achieve working style innovations in the future. In training of human resources, we are focusing more than ever on training to develop global human resources and management candidates. In order to promote the participation of female employees, we are continuing our program for training of female leaders and working so that our female employees can be active in a wide range of positions. We have conducted individual interviews and training sessions involving company directors for female employees in sales, engineering, and other skilled positions. We are also working to reinforce corporate governance in order to improve our corporate value and be a company that is trusted by all its stakeholders.
Contributing to SDGs
In April 2020 we established the Sustainability Management Headquarters and began programs for contributing to the achievement of SDGs (Sustainable Development Goals). We have linked the programs in the current single-year management plan, medium term management plan, and 7th Mid-Term Plan on the Environment with 17 SDGs, and have made clear the relationships between ESPEC business activities and SDGs. So that this can be fully understood throughout the company, we have also created a video which explains how the contents of SDGs are related to our company's business. First we conducted SDG training for the heads of all departments and asked them to consider how the activities of each department were related to SDGs. We intend to contribute to the resolution of a wide range of issues facing society through the business of the ESPEC Group. Unrestrained by conventional thinking, we will continue to work steadily toward the achievement of a sustainable society.