Compact Ultra Low Temperature Chamber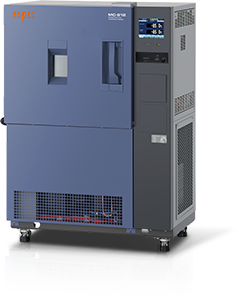 Overview of Equipment
Compact ultra-low temperature chamber reach to -85°C
High performance and reliability in a compact package covers from an ultra-low temperature of -85°C to +180°C. Thanks to N-Instrument and its optional Ethernet connection, you can control and monitor the chamber remotely via web browser. It supports languages English, Russian and Japanese.
Specifications
Please scroll horizontally to look at table below.
Model
Temperature range
Inside/Outside
dimensions(mm)
MC-712
-75 to +100°C
(-103 to +212°F)
W400×H400×D400 /
W900×H1200×D610
MC-812
-85 to +180°C
(-121 to +356°F)
Features
Wide temperature range

Two chamber models are available: one with a temperature range from -85°C to +180°C and another from -75°C to +100°C. They can be used for various tests including temperature characteristic and low temperature storage.

Remote monitoring and control (Ethernet connection)

Add an optional Ethernet/LAN Port to connect the chamber to your local area network, then control and monitor it from any computer on the network or off-site using a web browser.

* This operation can only be performed when the power breaker is "ON"

Using sampling data

Sampling data (temperature set point and process value) can be copied via a USB memory device or recorded directly. It is also possible to copy program patterns between chambers without using a PC, enabling effective use of data.

* USB memory is not included.
Test area

USB memory port
Recommended products for customers viewing this product