ESPEC Materiality (important issues)
Process for identifying materialities
When identifying materialities (important issues), we first referred to GRI standards, SDGs (Sustainable Development Goals), external investigations, and other materials, and identified the social issues. Next from the identified issues, we selected the issues which we will address in order to achieve continuing growth from the perspective of consistency with THE ESPEC MIND and ESPEC Vision 2025. The selected issues were discussed and decided by the Management Committee in order to identify ESPEC materialities.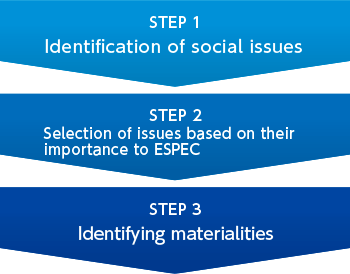 Materialities and SDG targets
The materiality identified by the Company and the related SDGs targets are as follows. We have incorporated this materiality into each of the management strategies in our medium-term management plan "Progressive Plan 2025," which started in fiscal 2022, and we are working to strengthen our businesses that contribute to solving social issues and to strengthen our management foundation with a focus on E (environment), S (society), and G (governance).
Please scroll horizontally to look at table below.
Materialities
Related SDG targets
Innovations in business structures
Expanding sales in advanced technology fields (5G, IoT, EV)

Providing products and services for zero carbon and digitalization
Creation and expansion of new business
Creation of business linked to resolving environmental and social issues
Strengthening functions
Strengthening technical development and expanding and improving Environmental Creation Technology

Strengthening our core plants (production functions) and enacting manufacturing innovations
Strengthening global marketing
Carrying out DX
Utilizing technologies
Improving customer satisfaction and providing greater value to our customers
Strengthening the global supply chain (stable procurement)
Preservation of the global environment
Measures to combat global warming

Preserving biodiversity
Strengthening governance
Carrying out group governance

Developing human resources and vitalizing workplaces
Training of core human resources (strengthening talent management)

Training of global human resources
Providing employees with growth support and opportunities to shine
Promoting diversity and respecting human rights
Respect for human rights

Training women for management positions and promoting the participation of senior employees