ESPEC
ONLINE SERIES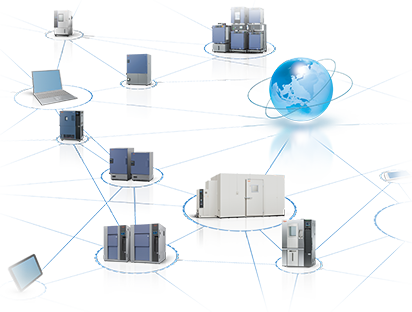 Overview of Equipment
Online Operations Expanding thd Possibilities for Environmental Testing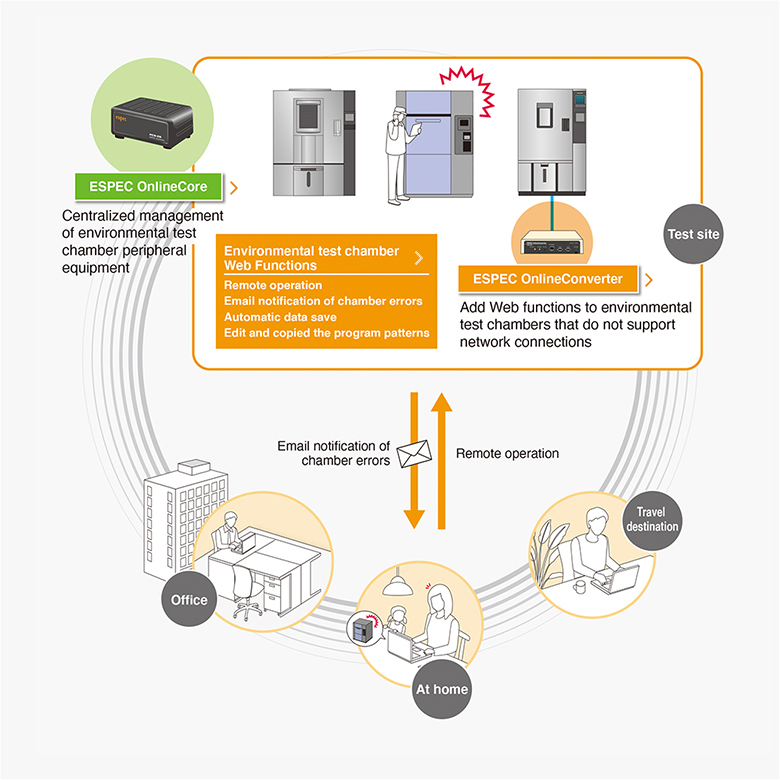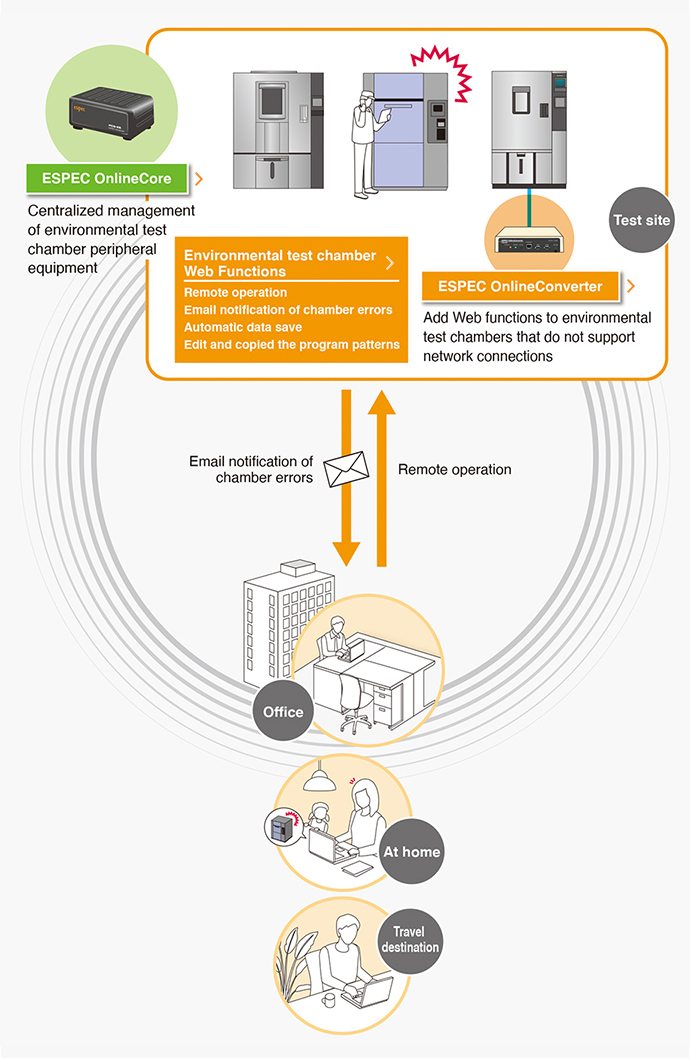 Chamber Web Functions
Chamber Web Functions
Environmental test chambers that include a web application can be operated remotely from a web browser.
Please scroll horizontally to look at table below.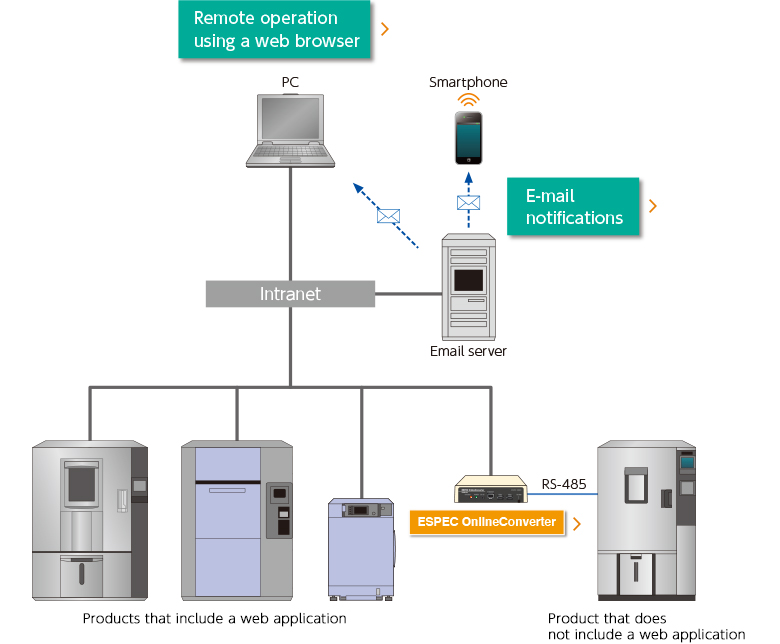 Monitor the chamber operating conditions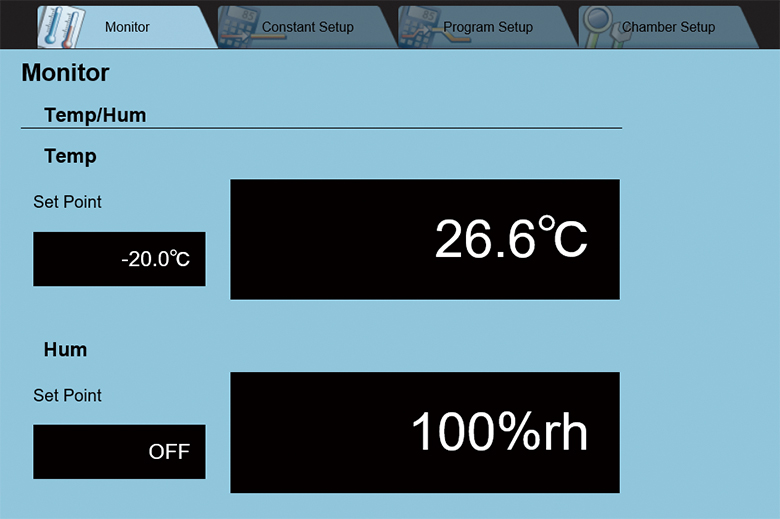 Edit the test conditions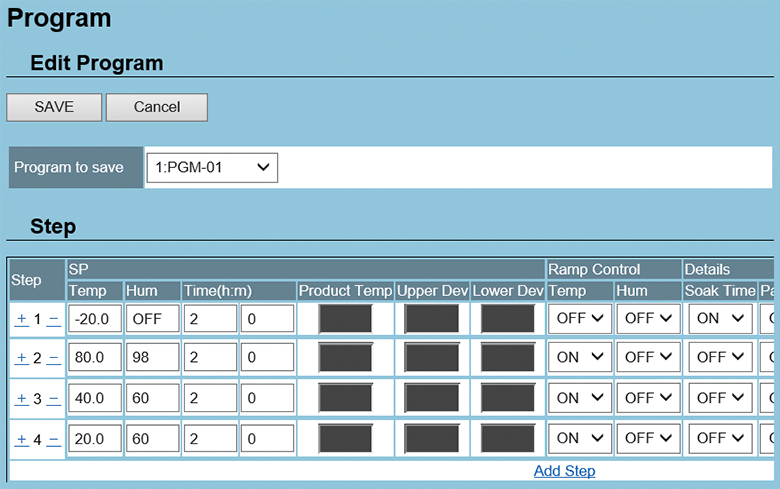 ■Turn operation ON/OFF
■Program patterns can be saved to a PC and copied to other chambers.
■Temperature and humidity data from a set period of time is saved at the test chamber.
■From a web browser, the user can download the test data for the desired period and display it in a graph.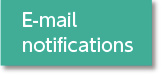 Email is sent to the registered address to notify the user when an alarm occurred at a chamber.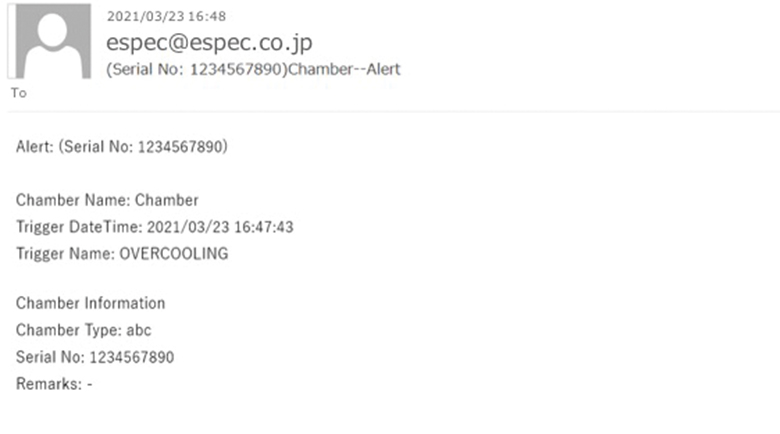 Central control system
Central control system
ESPEC OnlineCore
The operating status oof multiple chambers can be quickly ascertained via a web browser just by connecting to an Internet environment.
Central management monitor
Up to 100 environmental test chambers and peripheral equipment units can be connected.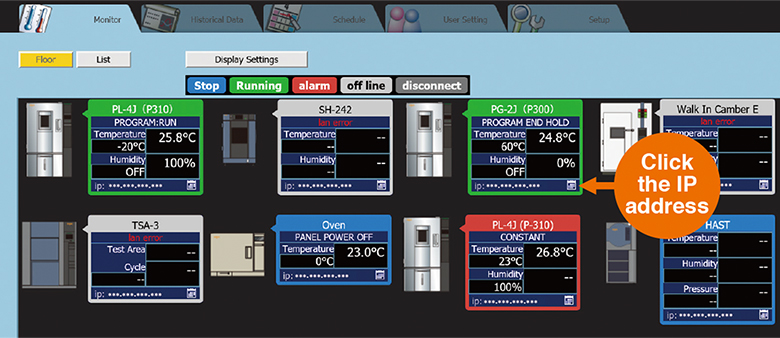 Open chamber webpages (by clicking their IP addresses).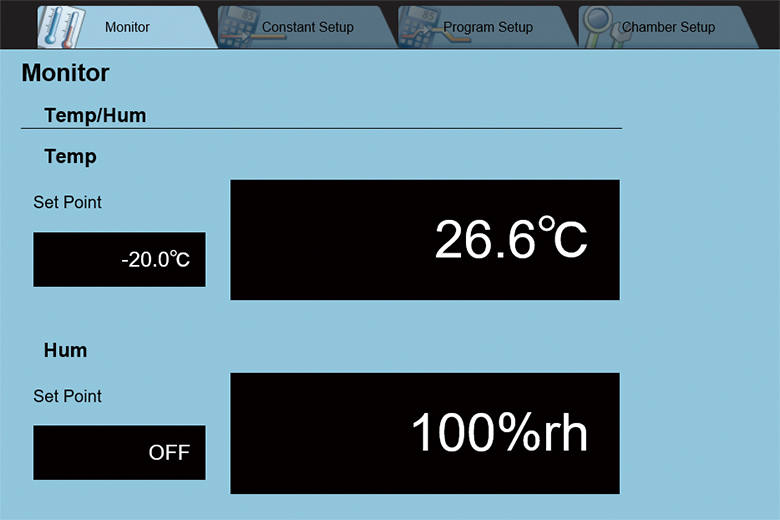 The layout, display format, sizes, and other characteristics of the connected equipment on the monitor can be changed.

Change between a floor display and list display.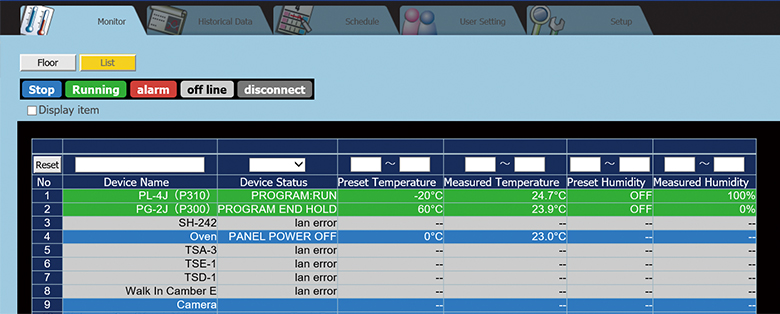 Schedule management
Manage the schedules of registered chambers.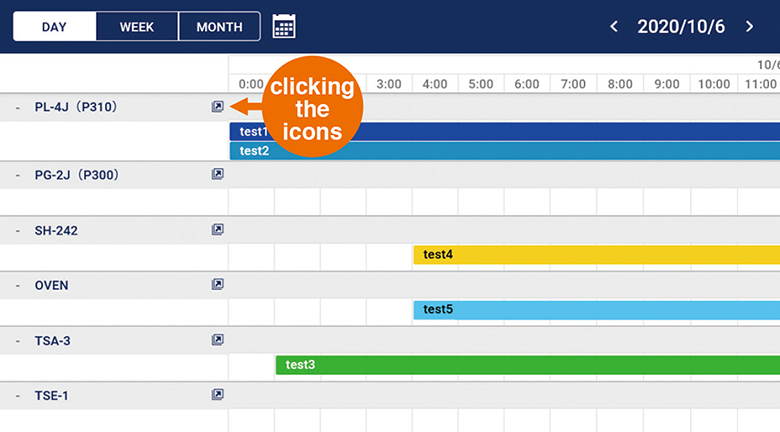 Open chamber webpages from the schedule screen (by clicking the icons).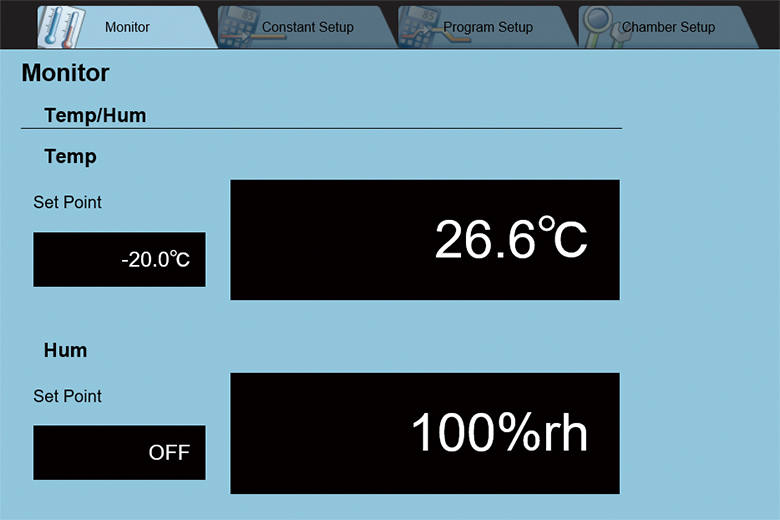 Central control system optional
Test Management Advanced Package
All-in-one package for everything from test data collection to report creation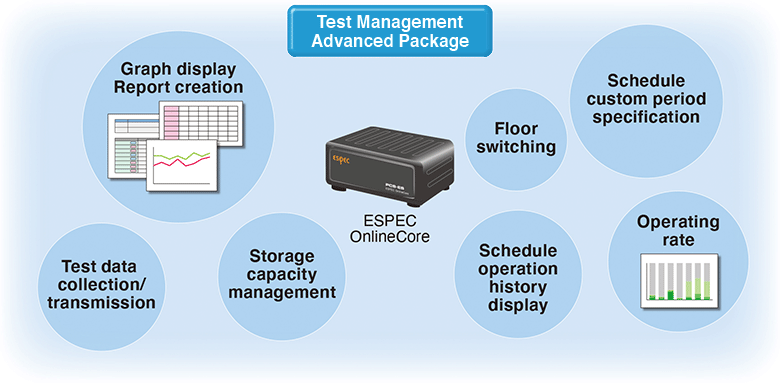 The test data files stored in ESPEC chambers are saved in ESPEC OnlineCore.
The storage capacity is enough for around 10 years of data from 100 chambers.

Test data is automatically transmitted to the specified FTP server and saved as backup for redundant management.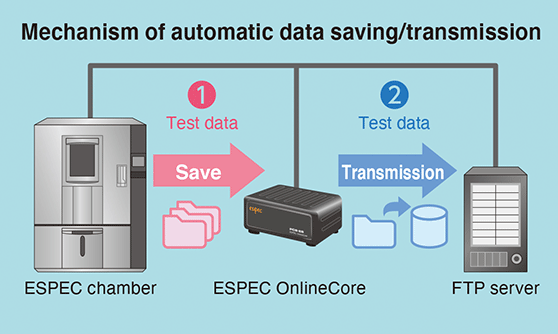 Graph display, comment input, simplified analysis, and conversion to CSV output files are all possible.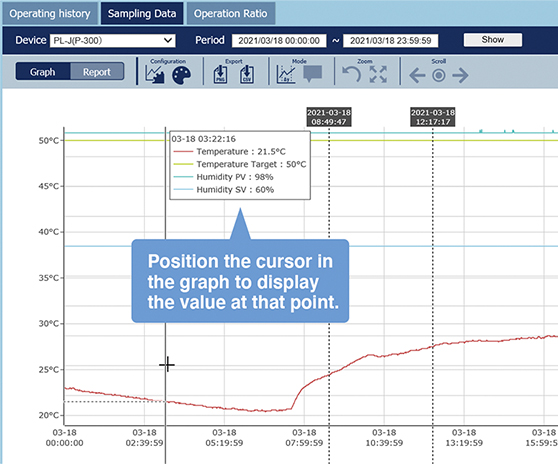 Understanding the operating status makes it easier to plan for chamber expansion or dismantling.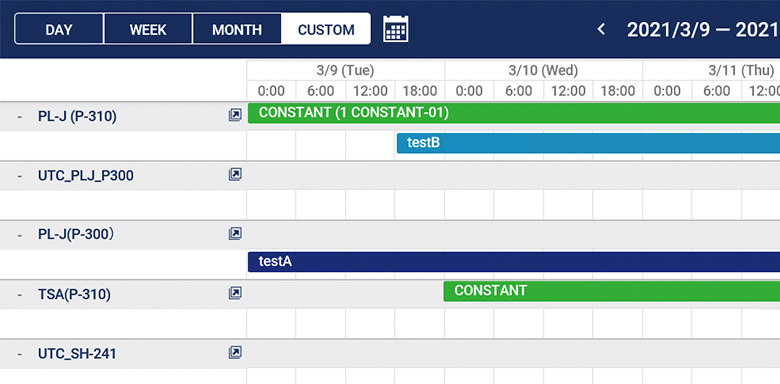 Schedule progress screen

Connected equipment can be grouped as needed, according to individual floors, rooms, or other units.
Up to 10 groups can be registered.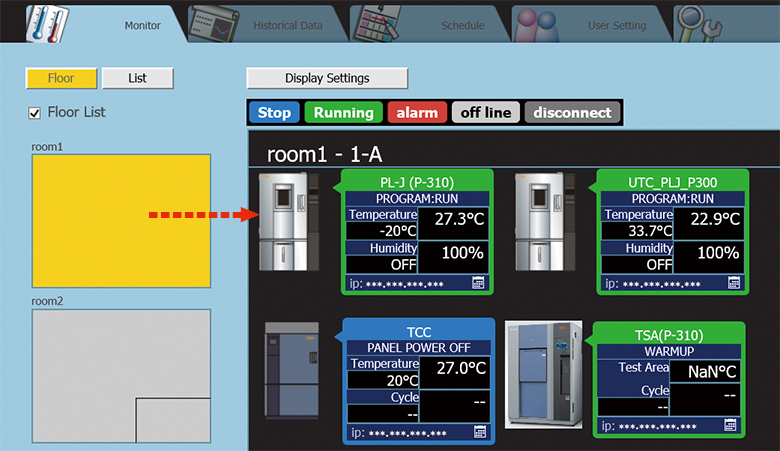 Display of the selected floor
Maintenance Management Package
Together wit h the test management functions, centrally managing chamber maintenance data with ESPEC OnlineCore makes it possible to efficiently check the required information when necessary.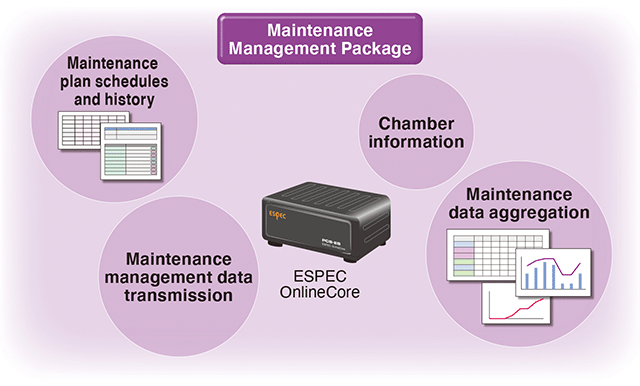 The list shows the registered schedules and records of diagnoses, repairs,inspections, calibrations, etc.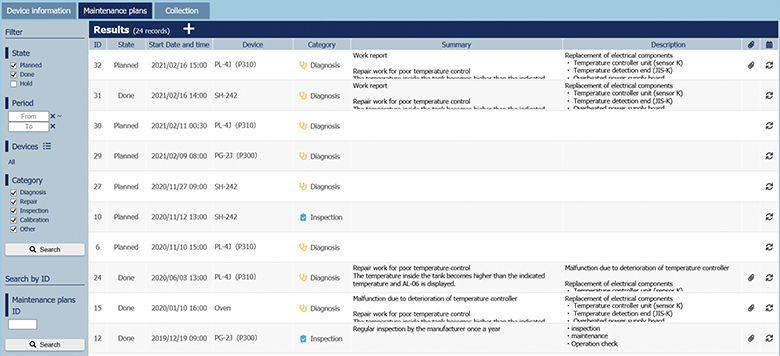 Maintenance plan list screen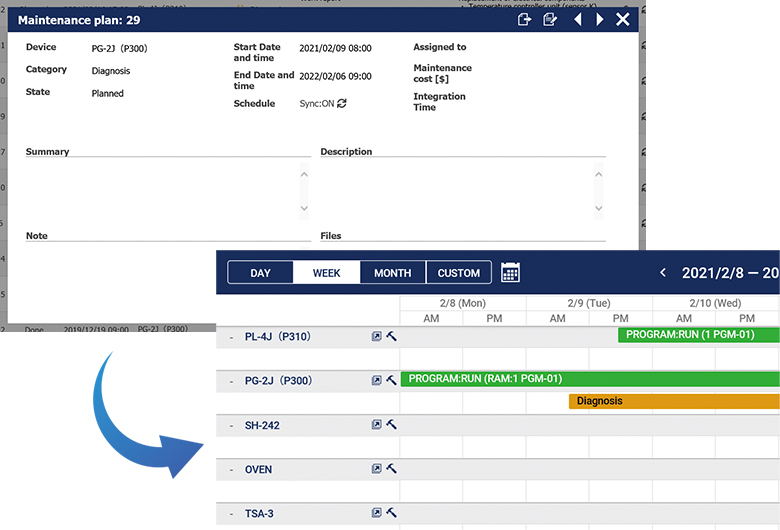 Linked schedule


Register management information and chamber specifications. Check the temperature and humidity range as well as the test area size when selecting the chamber.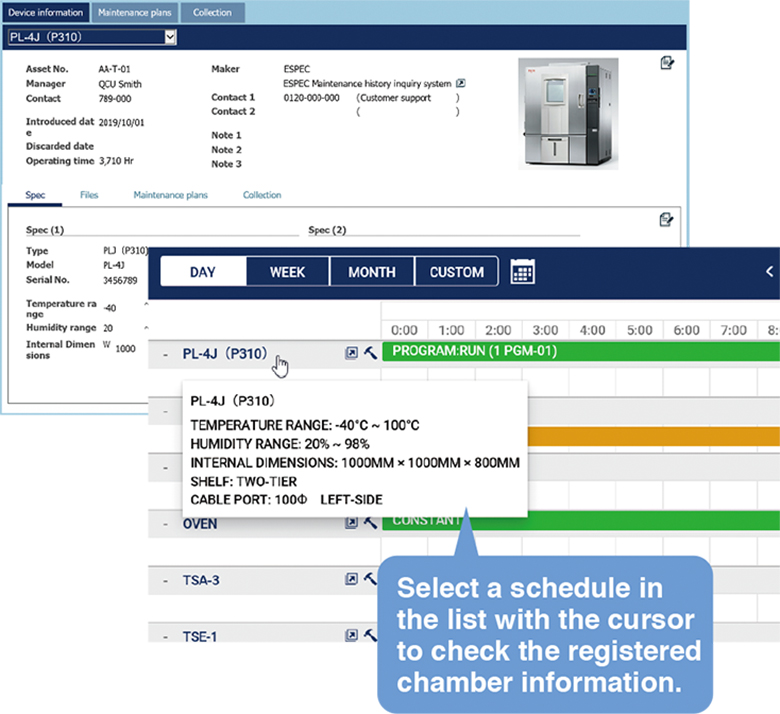 Operating rate aggregation for all chambers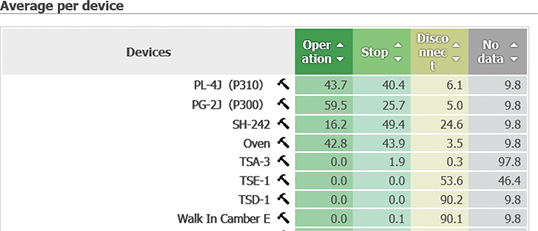 Averages for each chamber