ESPEC Programs and SDGs
(Sustainable Development Goals)
The relationship between ESPEC Programs and SDGs (Sustainable Development Goals) is organized here from two perspectives: "Business and business processes" and Supply Chain." Going forward, we will continue to carry out our SDG programs as we aim for sustainable growth.
SDGs (Sustainable Development Goals)
The SDGs (Sustainable Development Goals) were adopted at a United Nations summit in September 2015, and consist of goals that should be achieved on a global scale by 2030. They are composed of 17 goals and 169 targets that address social issues in all countries. The achievement of these goals and targets is intended to construct societies that are inclusive and sustainable.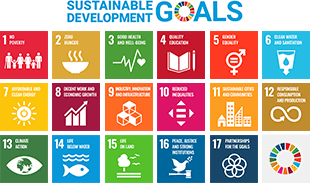 ESPEC Programs and SDG Targets
Please scroll horizontally to look at table below.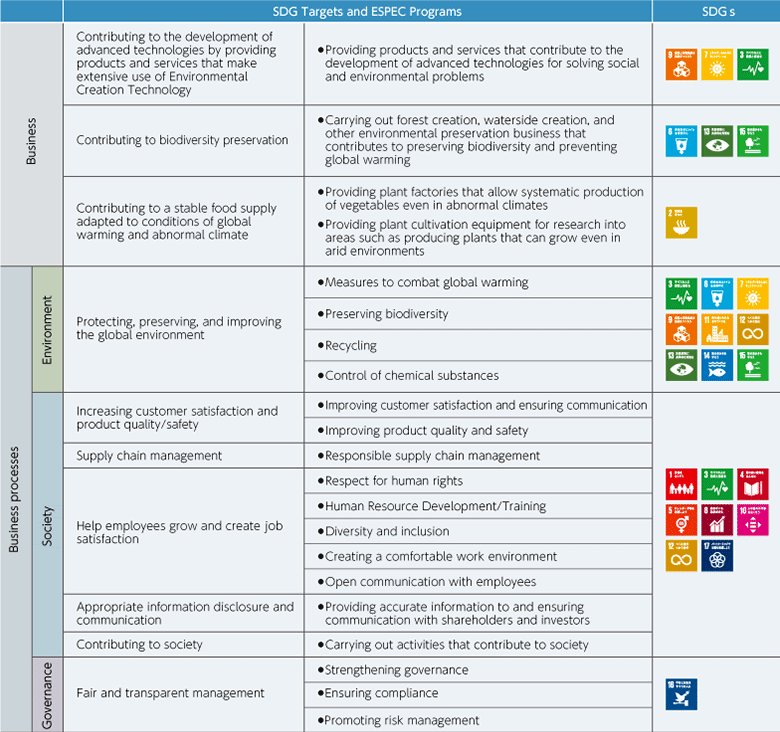 ESPEC Programs in the Supply Chain
Please scroll horizontally to look at table below.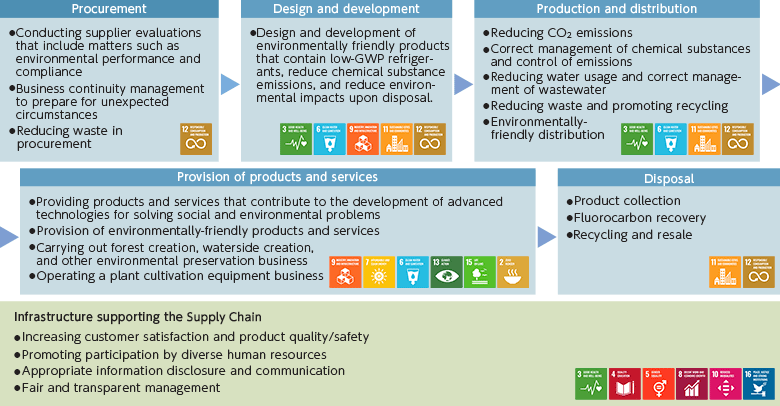 Relationship between ESPEC Business and SDGs
Our business contributes to the development of advanced technologies, preservation of biodiversity, and a stable food supply—areas which are linked to the achievement of SDGs.
● Contributing to the development of advanced
technologies by providing products and services
that make extensive use of Environmental Creation Technology
A wide range of technical innovations are being carried out around the world, aiming to create sustainable and affluent societies.
ESPEC provides test systems and services for ensuring the reliability and safety that are essential for these advanced technologies.
Equipment Business
Environmental Testing Equipment/Devices
We provide a wide product range of environmental test chambers that artificially reproduce environmental factors such as temperature and humidity in order to ensure product reliability.
Temperature (& Humidity) Chamber
Platinous J Series

Automobile test system that can enclose an entire vehicle
Semiconductor-related Equipment
We provide burn-in chambers for semiconductor inspections, measurement evaluation systems, and other equipment.
Burn-In Chamber
Energy Device Equipment
We provide evaluation equipment for the secondary batteries and fuel cells that are installed in eco-cars.
Battery Charge/Discharge Test System
Integrated with Temperature Chamber
for Secondary Batteries in Electric Vehicles
Equipment for Medicinal Drugs
We provide cold storage units for constant temperature transportation of vaccines or other products, as well as stability test systems that are used in quality control of pharmaceuticals, food products, and other products.
Service Business
After-sales Support
Regular product maintenance and preventive maintenance allow customers to be confident when using our systems.
Laboratory Testing Services
We offer laboratory testing services that make use of the technologies and testing expertise that we have developed through environmental testing. At our Energy Device Environmental Test Center, we provide one-stop services covering everything from the safety testing of automotive secondary batteries prescribed in UN regulations to applications for certification.
Network services that allow remote management of multiple test systems

4 sites for laboratory testing services have been established in Japan, 2 in China, and 1 in Thailand.
● Contributing to biodiversity preservation
Environmental Preservation Business
We operate an environmental preservation business that restores natural environments, including forest creation using species native to that area, and waterside creation that restores natural river environments. This contributes to preventing global warming and preserving biodiversity.
Restored forest along the approach to Rinnoji Temple in Sendai City

Waterside creation on a Sumida River terrace in Tokyo
● Contributing to a stable food supply adapted to conditions
of global warming and abnormal climate
Plant Cultivation Equipment Business
ESPEC provides plant factories that artificially reproduce environments for plant growth and allow systematic production of vegetables even in abnormal climates. We are also contributing to stable food supply by providing systems that are used in research for developing plants that are resistant to arid conditions.
Plant factory utilizing deep-ocean water
Production and sale of mineral-rich vegetables
Experimental system for analyzing responses of dryland plants to climate changes
(Arid Land Research Center, Tottori University)