Environmentally-Friendly Products
ESPEC has established "Environmentally-Friendly Development Design Guidelines" and strives to develop and provide environmentally-friendly products from a comprehensive perspective that encompasses not only focusing on the energy saved by our products, but also recycling, properly using chemicals, as well as adopting other similar measures.
Basic Views on Product Development
From early on, we have been interested in global environment conservation and have endeavored to address issues such as the reduction of power consumption during operation of our products, the proper use of chemicals, the reduction of the environmental burden caused by product disposal, and so on. As we continue with this approach to product design and development, we will clarify the environmental issues associated with our main product of environmental test equipment, and keep developing environmentally-friendly products that address these issues. This basic policy is what our "Environmentally-Friendly Development Design Guidelines" are. Since issuing the first edition of the guidelines, we have been revising them to ensure they reflect the changing times and continue to form the basis for developing products that satisfy all requirements of safety, quality, price, the environment, and delivery schedule. We will continue to work toward contributing to society and customers through a product creation process that takes the global environment into consideration.
Main content of the Environmentally-Friendly Development Design Guidelines
Management categories of Environmentally-Friendly Development Design (basic views)
Compliance with laws and regulations
Lifecycle assessment (procedures and evaluation, etc.)
Environmental labels (type and content)
ESPEC's Environmental Label "Green Product Label"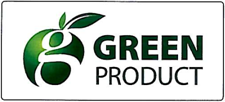 In April 2009, with the aim of proactively disclosing environmental information with regard to the promotion of the development of environmentally-friendly products, we launched the "Green Product" category and instituted the "Green Product Label" system, which consists in affixing an environmental label to products that meet the prescribed environmentally-friendly certification standards.
The "Green Product Label" is equivalent to the environmental label (ISO/JISQ14021) for self-declared environmental claims "Type II" established by the International Organization for Standardization (ISO).
With regard to the "Green Product Label" certification, the Environmental Management Department is responsible for reviewing and deciding whether a product is approved and can use the label according to whether it meets the "Green Product Label" certification standards.
Green Product Label Certification Standards
Scope Subject to Selection

To be released on the domestic market in or after April 2009.

Model change products, series products, and new products
Improvements on current models and new improved products
Products compatible with individual orders

Certification Standards

In comparison with the former model regarding power consumption, 15% energy saving or more is achieved. (When the operation pattern specified by ESPEC is used and compared with the former model)