Industrial Ovens Temperature Chamber Series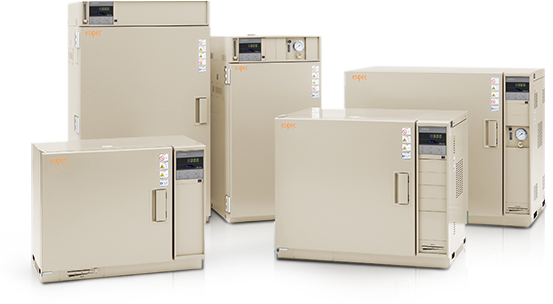 Overview of Equipment
Worldwide applications
ESPEC's Temperature Chambers are suitable for a broad range of applications from high-temperature testing, to heat treatment or drying for production lines.
Several volumes are available in horizontal (PH series) or vertical (PV series) models.
High performance chamber

A temperature-indication controller with an advanced PID operation, and an originally developed chamber configuration provide unmatched oven performance. Temperature uniformity, temperature constancy, temperature heat-up rate, and temperature recovery time are performed with the upmost reliability.
Wide model selection (PH series)

We provide a total of 16 ovens with combination of temperature range, capacity, and instrumentation.
A space-saving upright chamber (PV series)

Components are incorporated into the top portion of the vertical chamber, reducing installation space by 20 to 60% (comparison with conventional model). Increases productivity on the production line, and saves laboratory space.
Specifications
Please scroll horizontally to look at table below.
Model
Temperature & range
Inside/Outside
dimensions(mm)
PV-212
(PVH-212)
(Ambient temp. +20)℃ to +200℃
((Ambient temp. +20)℃ to +300℃)
W600×H600×D600 /
W770×H1200×D925
PV-222
(PVH-222)
W600×H900×D600 /
W770×H1500×D925
PV-232
(PVH-232)
W600×H1200×D600 /
W770×H1800×D925
PV-332
(PVH-332)
W800×H1200×D800 /
W1030×H1800×D1145
PH-102
(PHH-102)
(Ambient temp. +20)℃ to +200℃
((Ambient temp. +20)℃ to +300℃)
W450×H450×D450 /
W1040×H820×D635
PH-202
(PHH-202)
W600×H600×D600 /
W1190×H970×D785
PH-302
(PHH-302)
W800×H800×D800 /
W1500×H1210×D1065
PH-402
(PHH-402)
W1000×H1000×D1000 /
W1730×H1480×D1275
* Specify M-instrumentation for temperature programs with three or more steps.
Features
Two types of program instrumentation to suit different applications.
Standard Instrumentation and M-Instrumentation.
User-friendly Standard Instrumentation

Standard Instrumentation features programmed operation with operational settings such as constant mode and automatic start/stop. Suitable for heat treatment, drying, and similar production-line applications.

M-Instrumentation features programs with up to 20 steps

Suitable for a range of applications from temperature-characteristics testing to heat treatment and drying. Programmed operation now allows storing ten patterns, each up to twenty steps. Provides a wide range of functions, including temperature ramp settings and a maximum of 999 repeat cycles.

Easy setup with on-screen display

Employs interactive settings for ease of use. Text can be displayed and entered in Japanese or English alphanumeric characters.

Four optional functions

Four optional functions, namely, air flow adjuster, automatic damper, integrating hour meter, and calendar timer can be included in the instrumentation. These functions can be set by using main panel instrumentation keys.

Interface (Option)

Interface for device communication can be selected between RS-485, GPIB and RS-232C.

Energy Saver Duct (PH series)

Energy saving approximately 20% by heat recycling from exhaust through the duct to maintain temperature while damper opens.