Laboratory Testing Services
A full range of test equipment worthy of a leader in environmental test chambers

ESPEC's test equipment is designed to handle many different quality and reliability evaluation applications. From standard temperature chambers to altitude test chambers and other specialized equipment, our equipment can handle testing ranging from semiconductor and aircraft equipment evaluations to secondary battery safety tests. We can also plan and provide testing tailored to client needs. Our equipment is upgraded continually to meet increasingly diverse client needs.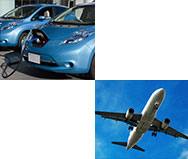 Test design encompassing peripheral systems

We can plan and implement testing tailored to client needs, such as individual test breakdown, standards compliance tests and comprehensive reliability evaluation tests including peripheral measurement system design, measurement and evaluation.
Extensive experience and track record in reliability tests

A long history of outsourced quality evaluation/reliability tests at our test facilities has enabled ESPEC to accumulate extensive technology. We advise clients on test plans, provide and evaluate test results, and assist clients with many aspects of the work of evaluating quality and reliability.
Cooled by heat sink
and fan (air-cooled)

High-current heat-resistant socket
List of laboratory testing services
Test name
Test equipment used
Cold test/cold-resistance test/Dry heat test/heat-resistance test/damp heat (steady-state) test/temperature and humidity cycling test
Thermal cycling test
Change of temperature with specified rate of change
Rapid change temperature test
Rapid temperature variation test
Two-liquid rapid change temperature test
Combined sequential cold, low air pressure and damp heat test
Dew cycle test
HAST (Highly Accelerated Stress Test)
Vibration test
Sine wave test

Vibration test systems/combined environmental test systems (temperature and humidity test chambers + vibration test systems)

Random wave test
Shock test
Combined environmental test (temperature and humidity + vibrations)
Drop Test
Salt mist test
Salt mist combined cyclic test

Sand and dust test
Lithium-ion secondary battery (LIB)
Charge/discharge test

Lithium-ion secondary battery (LIB)
Safety test

External short circuit test
Nail penetration test
Cell battery safety test
Solar battery PID test
Power semiconductor power cycling test (intermittent power test)
Conductor resistance evaluation test
Insulation resistance evaluation test
Usage precautions/inquiries
Click this link to make a requestRequest procedure
Click this link to request an estimate.