Damp Heat Test / Cold Test
Test summary/features

Damp heat tests, cold tests and temperature & humidity cycling tests combining individual tests are fundamental types of development, quality assurance and reliability testing.
In addition to development tests and reliability tests, the temperature chambers used for these tests are also widely used for heat treatment processes such as temperature aging and humidity control on production lines, and screening tests on test lines. ESPEC's test facilities can also be used to research and develop production and test technologies.
Test examples

Whisker evaluation done when eliminating lead plating from electron devices used for evaluation
Checking temperature/humidity characteristics of electronic parts and compact electronic devices
Durability testing and life testing done by evaluating resistance to heat, cold and humidity
Thermal cycling tests and temperature/humidity cycling testing checking resistance to temperature variations and humidity variations
Moisture absorption testing of materials such as plastics and PCB materials
Preservation testing of packaged test samples
Studies of effects on products of temperature/humidity environments encountered during product transport
Checking how manufactured products are affected by heat treatment on production lines (heat treatment, humidity control and aging processes)
Production technology studies, development production, test line screening processes, and studies of their effects
Test equipment

ESPEC's test facilities are equipped with the optimum equipment for a variety of testing requests. Types available range from standard temperature & humidity chambers that make test setup easy, to walk-in temperature chambers large enough for researchers to enter.

Temperature chambers have cable ports (100 mm diameter) connecting the inside and outside of the chamber. The ports enable easy test sample bias application or measurement wiring from outside the chamber.
Electrical contacts linked to temperature settings are provided. These contacts can be used to turn test sample power ON/OFF in accordance with the test program pattern, or set operations linked to peripheral connected devices.
Space is provided around temperature chambers for installing measuring instruments and taking measurements, enabling clients to use their own measuring instruments for testing.
We can provide peripheral measuring instruments in test facilities if notified in advance of the instruments needed during the test planning phase. Contact ESPEC beforehand.
Standard temperature (& humidity) chambers
Equipment particulars

Platinous Series Temperature & Humidity Chamber, Low Temperature (& Humidity) Chamber (installed at ESPEC's test facilities)

ESPEC's test facilities are equipped with test chambers from the Platinous Series, a product line that has been continually highly rated in the field of reliability testing. Its combination of outstanding test precision, stability and test technology ensures solid reliability testing.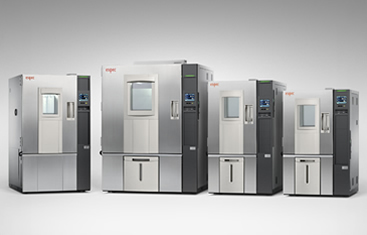 Temperature chambers/temperature and humidity chambers
Temperature range
-40 to +150°C
-70 to +150°C
Humidity range
20 to 98%rh
Internal chamber dimensions (mm)
W500
W500
W600
W1000
W600
W1000
H600
H750
H850
H1000
H850
H1000
D400
D600
D800
D800
D600
D800
Large-capacity medium-sized temperature (& humidity) chambers

ESPEC's test facilities feature environmental test chambers with large capacities unavailable in previous models. These large-capacity models enable damp heat tests on relatively large products that were previously too large or heavy for testing, on automotive parts enlarged by modularization, and on today's flat panel displays with ever larger screen sizes.
Equipment particulars

High-power Temperature & Humidity Chamber (installed at Kobe Test Center)

A large temperature/humidity chamber with wide temperature/humidity ranges. Has a temperature variation rate of 4°C/minute, and enables high-temperature, constant-humidity testing at 95°C/98% RH.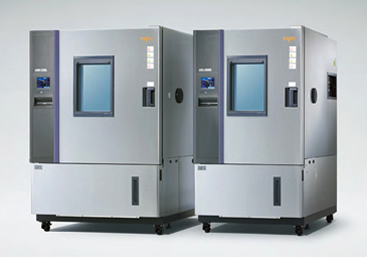 Main specifications
Model
ARS-1100-J
Temperature range
-75°C to +180°C
Humidity range
10 to 98%rh
Internal dimensions
W1100×H1000×D1000 (mm)
Faster Temperature (& Humidity) Chamber (installed at Kobe, Toyota and Utsunomiya Test Centers)

SMS-2 has wide temperature and humidity ranges, and rapid temperature variation performance of 5°C/minute. SMS-2S supports testing of up to 12 solar modules of up to 1,300 × 1,800 mm in size.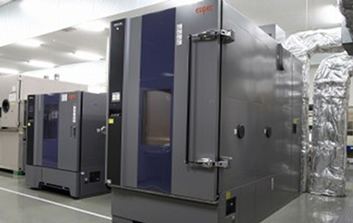 Main specifications
Model
SMS-2
SMS-2S
Temperature range
-70 to +180°C
-55 to 150°C
Humidity range
20 to 98%rh
40 to 95%rh
Internal dimensions
W1200×H1000×D1500 mm
W1200×H1650×D2050 mm
Faster Temperature (& Humidity) Chamber (installed at Kobe and Toyota Test Centers)

1.5 meter-wide test chamber enables environment testing of large test samples.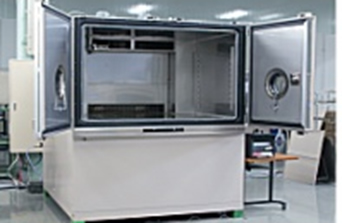 Main specifications
Model
ML-211
Temperature range
-40°C to +180°C
Humidity range
20 to 95%rh
Internal dimensions
W1500×H1000×D1000 (mm)
Walk-in type temperature (& humidity) chamber

An environmental test chamber for large test samples, featuring a capacious switchboard too large for general-purpose models, console rack-mounted electronic devices and mechanical equipment. The roomy test space supports various applications, such as function evaluation testing with researchers able to operate test samples directly in the test environment.
Test examples

Checking temperature/humidity characteristics of large machinery (example: on-site reproduction of operating environment of products for export)
Checking temperature/humidity characteristics of large materials such as construction materials (wall materials, roof materials)
Operation verification testing in specific temperature/humidity environments, done by researchers operating and measuring test samples directly
Testing requiring other testers (such as bend testers or drop testers) to be brought into the chamber
Testing requiring installation of windbreaks or creation of other suitable space to avoid airflow coming into direct contact with test samples (example: measuring temperature inside casing of devices such as PCs)
esting requiring suitable space or distance such as temperature characteristic measurement of distance sensors
Transport environment simulation testing of packaged test samples
Product warehouse preservation environment simulation: manufactured product heat treatment, aging treatment or other mass heat treatment
Usage information

ESPEC's test facilities are equipped with temperature (humidity) chambers of various sizes and capabilities. Contact the facilities individually for detailed specifications.
The test facilities have oversized doors to enable deliveries of large test samples.
The test facilities are also equipped with peripheral equipment so that clients can come to the facilities themselves and use their own temperature chambers.
Detailed drawings of temperature chambers and measurement spaces around temperature chambers are available. Feel free to ask for them when using ESPEC services.
You will need to confirm test sample delivery/placement/power supply equipment during the test planning/arranging phase. Note that you may be asked to present required documentation. Confirmation of test sample delivery, placement and initial operation is the responsibility of the client.
Equipment particulars
Walk-In Type Temperature (& Humidity) Chamber (Kobe Test Center)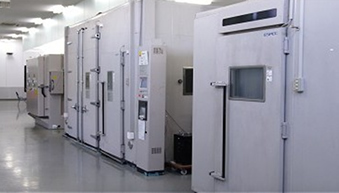 Walk-In Type Temperature (& Humidity) Chamber (Utsunomiya Test Center)

| | | | | |
| --- | --- | --- | --- | --- |
| Test facility | Display model | Temperature range | Humidity range | Internal dimensions (W × H × D; mm) |
| Kobe | TBL-6 | -30 to +80°C | 30 to 98%rh | 3020×2600×4070 |
| Kobe | TBE-6 | -40 to +120°C | 10 to 95%rh | 2950×2600×4000 |
| Utsunomiya | TBE-6 | -40 to +120°C | 5 to 95%rh | 4000×2400×2950 |
| Utsunomiya | TBE-6 | -40 to +80°C | 10 to 95%rh | 3950×2400×2900 |
| Utsunomiya | TBE-6 | -40 to +120°C | 10 to 95%rh | 4000×3000×2950 |
| Utsunomiya | TBL-6 | -30 to +100°C | 10 to 95%rh | 4000×3000×2950 |