Rapid Change Temperature Test
Test summary/features

Rapid change temperature testing is a type of thermal cycling tests developed to improve the failure repeatability of thermal shock tests.
With the ongoing rise in issues affecting the reliability of electronic devices and circuit boards, a better-suited evaluation testing method is needed to respond to issues such as higher device operation temperatures resulting from greater semiconductor integration, changes in device mounting methods such as BGA and CSP, and the use of lead-free solder.
Rapid change temperature testing specifies a test sample temperature variation rate of 15°C/minute or less, which is the biggest difference between this method and thermal shock testing. Since rapid change temperature testing achieves highly repeatable test results, it is used for compliance testing for standards such as JEDEC (JESD 22-A104B).
Difference in specimen temperature changes in thermal shock testing and rapid thermal cycling tests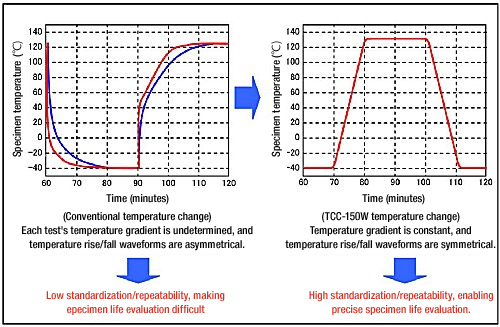 Test equipment

TCC-150 Rapid-rate Thermal Cycle Chamber

Outstanding temperature distribution creates uniform stress.
The temperature distribution performance is outstanding even during temperature variation, providing uniform and highly repeatable stress.
The optimum air flow and air velocity distribution are calculated by the simulation, minimizing the differences in stress caused by differences in specimen placement positions in the test space.
New function controls test sample temperature variation rate.
Features a high-speed controller for specimen temperature control. This specimen temperature control is achieved by a variety of new technologies—the refrigeration capacity has been increased, the air-conditioning technology minimizes the temperature difference between the specimen and air, and uniform air velocity distribution minimizes the test sample temperature distribution.
Complies with JEDEC standard (JESD22-A104B).
The Rapid-rate Thermal Cycle Chamber, that enables semiconductor package evaluations and solder junction evaluations in compliance with the JESD22-A104B standard, enables test sample temperature control at a rate of 15℃/minute (between -40 and +125°C).
Supports temperature control of test samples and air.
Uses two control methods, enabling thermal cycling tests with specimen temperature control of 15℃/minute, and air temperature control. Supports many different applications, ranging from standards compliance testing to screening.
Equipment particulars

TCC-150 Rapid-rate Thermal Cycle Chamber (installed at ESPEC test facilities)
Rapid-rate Thermal Cycle Chamber
Model
TCC-150
Temperature range
-70 to +180°C
Internal dimensions
W800×
H500×
D400mm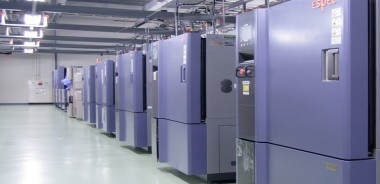 Temperature variation
With specimen
Control target
Control method
Performance
Temperature variation time from -45°C to +155°C, when -70°C to +180°C is set.
No
Air
Non-lamp
9 minutes max.
(23°C/minute min.)
Temperature variation time from +155°C to -45°C, when +180°C to -70°C is set.
No
Air
Non-lamp
11 minutes max.
(18°C/minute min.)
Temperature variation time from -23.5°C to +108.5°C, when -40°C to +125°C is set.
No
Air
Non-lamp
5 minutes max.
(26°C/minute min.)
Temperature variation time from +108.5°C to -23.5°C, when +125°C to -40°C is set.
No
Air
Non-lamp
7 minutes max.
(20°C/minute min.)
Temperature variation time from +108.5°C to -23.5°C, when +125°C to -40°C is set.
Yes*
Air
Lamp
15°C/minute
Temperature variation time from +108.5°C to -23.5°C, when +125°C to -40°C is set.
Yes*
Specimen
Lamp
15°C/minute
* Specimen: 5 kg glass epoxy board + 4 kg apparatus (standard ESPEC samples)