Dew Cycle Test
Test summary/features

Failures caused by PCB insulation deterioration due to condensation have long been recognized as a problem. Problematic insulation deterioration failures have recently been increasing as product reliability has been improving. Factors responsible include the finer wiring patterns of today's smaller and denser electronic devices, and the greater variety of operating environments accompanying developments such as the rise of mobile applications.
Dew cycle test was devised as a method of determining reliability in terms of insulation deterioration caused by dew condensation. It is a test method that promotes insulation deterioration by abruptly varying precise temperature and humidity conditions to repeatedly generate and evaporate a constant quantity of dew condensation over constant time intervals.
Test equipment
The test equipment consists of two chambers that generate low and high temperature/humidity conditions, and a test chamber in which the test sample is placed.
When the temperature and humidity in the test chamber are abruptly increased, the temperature rise in the specimens (which have greater heat capacity than the air) lags behind the notmal temperature rise, causing condensation.
When the specimen surface temperature reaches the dew point, the condensation starts evaporating.
When the specimen temperature reaches the wet-bulb temperature, the specimen surface temperature reaches equilibrium.
When the dew condensation on the specimen surface evaporates, the specimen surface temperature approaches the dry-bulb temperature. Repeatedly alternating a low temperature condition with a high-temperature/humidity condition causes condensation to repeatedly form on the specimen and then evaporate.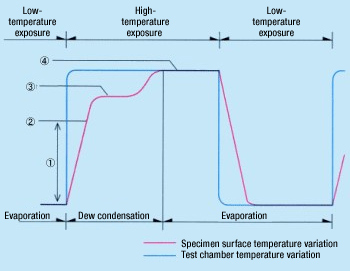 Related pages
Test Navi: Case studies (dew cycle testing)

Equipment particulars

Dew Cycle Test Chambers (installed at Toyota/Kobe Test Centers)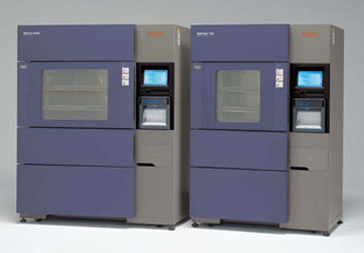 Dew Cycle Test Chambers
Model
DCTH-200
Exposure temperature/humidity ranges
High-temperature chamber : -10 to +100°C/50 to 95%rh
Low-temperature chamber : -30 to +100°C/40 to 85%rh
Test area dimensions (mm)
W650×H460×D670
New type of dew cycle testing: Freezing-condensation-evaporation

To prioritize dew condensation repeatability, dew cycle tests initially started as repeated cycles of low temperature/humidity alternating with notmal temperature/high humidity.
But the car electronics industry and other users have increasingly being demanding the addition of a freezing state to test cycles, since automotive electrical equipment can encounter freezing conditions in the market.
ESPEC has met this demand by providing a new type of test equipment known as an "Air to Air Thermal Shock Chamber (with Humidity)".
[Example test conditions]


-30°C (1 hour)
↓
25°C, 90% RH (1 hour)
↓
25°C, dehumidification (1.5 hours)
Repeat conditions above.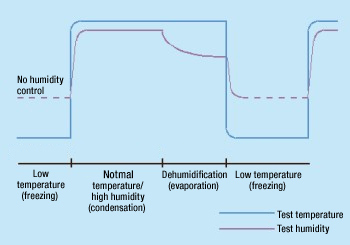 Equipment particulars

Air to Air Thermal Shock Chamber (with Humidity) (installed at Kobe Test Center)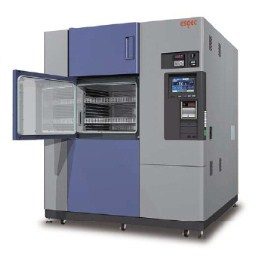 Air to Air Thermal Shock Chamber (with Humidity)
Model
TSA-101S-D
Exposure temperature/humidity ranges
High-temperature chamber : -10 to +100°C/40 to 95%rh
Low-temperature chamber : -70 to +60°C
Test area dimensions (mm)
W650×H460×D370