Sand and Dust Test
Test summary/features

Sand and dust testing is used during device development, testing and evaluation to check reliability relative to atmospheric effects from dry sand and dust (fine sand).
Sand and dust tests simulate the effect of particles of sharp-cornered sand and dust (fine sand) of up to 150 microns in size. The particles enter cracks, crevices, bearings and other connections, causing various types of damage responsible for equipment corrosion and malfunctions.
Test equipment

Testing can be performed with reference to MIL,NDS,RTCA, and so on.
Equipment particulars

Sand and Dust Test System (installed at Kobe Test Center)
Air containing sand and dust is circulated in a wind tunnel, flowing from the top to the bottom of the test area.
The san and dust therefore form a laminar flow from above the test sample and are blown against it, so the test plan needs to specify the test sample placement direction.
The test area measures 600 x 600 x 600 mm (W x H x D). The test sample surface area needs to be no more than 30 to 50% of the floor surface area to ensure there is a path for the air flow.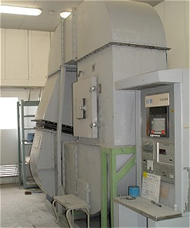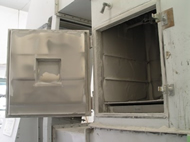 Main specifications
Control method
Wind tunnel circulation method
Temperature range
20 to +80°C
Humidity range
30% RH max.
Test chamber internal dimensions
W600×H600×D600 mm
Air velocity range
0.5 to 15.2m/s
Sand and dust concentration range
3.5 to 17.7g/m3