Promoting Participation
by Diverse Human Resources
HR Policy
A company's rise and fall depend on its "people." "People" are the pillar of our company, and management focused on people is the driving force behind our company's expansion. Our basic stance is to be a company where employees are the key players. ESPEC also aims to maximize the performance and energy of employees through our commitment to develop and foster highly-motivated human resources who also have good characters and are ready for challenges.
Commitment Sessions (Target Management Meetings)
Target management meetings called Commitment Sessions are held regularly for all employees. By having each individual employee discuss setting targets, issues in their work, their future career visions, and other matters with a superior, we aim to ensure that all members of the department are aligned on the same vector and achieve smoother communication.
Course Choice System (Area-limited Employment Arrangement)
For those who choose to accept a transfer, this system enables one to choose employment in limited locations due to family circumstances, personal values, or work ethics.
Global Trainee Program (Overseas Training System)
We have established a global trainee program to foster core human resources who can be active on the international stage. This system dispatches employees to overseas group companies for a fixed period of time in order for them to hone their global thinking skills and broaden their insight through on-site work experience.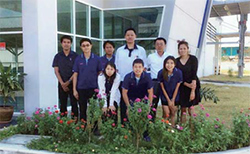 Field training at Thailand
Employee Award
Every year since 1991, we have presented awards to honor employees who have demonstrated diligence and merit or otherwise accomplished remarkable achievements such as acquiring patents or utility models, or being commended by the government or organizations we belong to.
Self-Development Educational Assistance
The company provides training support to employees for extending the skills they want to acquire, through means such as self-improvement training courses and a subsidy support system (foreign language learning support, communications training, recommended certifications). Through the Executive Training System that aims to develop management able to operate globally, support is provided for acquiring the abilities and knowledge needed by management, including getting MBA (Master of Business Administration) degrees.
■Results of Self-Development Educational Assistance
| | FY 2017 | FY 2018 | FY 2019 |
| --- | --- | --- | --- |
| The self-development educational courses | 415 | 418 | 289 |
| Correspondence education | 133 | 106 | 170 |
| Recommended qualifications | 77 | 91 | 109 |
| Foreign language learning | 29 | 35 | 36 |
In-House Recruitment
ESPEC adopts a system that allows employees to apply for specific work or projects within the company. This system helps to inspire employees to challenge themselves in addition to revitalizing the organization at large through the discovery and fluidization of human resources. Employees are able to apply directly through the HR department, which serves as the administrative office, and all application information is kept private.