Contribution to Society
Communication with Society
Cooperation with Environmental Training Conducted by Utsunomiya City
In July 2019 at our Utsunomiya Technocomplex (Utsunomiya City, Tochigi Prefecture), we accepted an environmentally friendly plant tour conducted by Utsunomiya City as part of its environmental training. 25 parent-child groups participated, and in addition to touring the facility, they also participated in other activities such as craft-making that reused the caps from plastic drink bottles.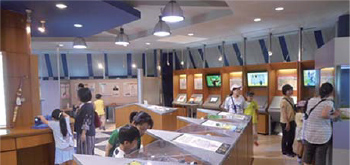 ESPEC environmental festival
Each year ESPEC Utsunomiya Technocomplex (UTC) holds an environmental festival to raise environmental awareness in the community. Everyone at the festival had fun learning about the environment through various activities, such as test-riding a solar car, making postcards using a paper maker, and playing a garbage sorting game.
Hands-on Learning About the Importance of the Natural Environment at ESPEC MIC
ESPEC MIC has been accepting local learning visits at its facilities since 2001. Visiting students participate in tree planting festivals, and experience actual work such as flora investigations and vegetable cultivation at the plant factory in order to learn about the importance of preserving the natural environment. In FY 2019, a total of 12 university and high school students participated in this learning experience.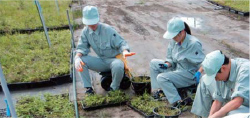 Participation in the "Future Forum for High School Students"
In July 2019, two ESPEC female employees took part as lecturers in the Kyoto Rikejo Support Program "Future Forum for High School Students" which was sponsored by the Kyoto Prefectural and Municipal Employers' Association and held at the Kyoto Prefectural Nishimaizuru High School. The program is aimed at helping female high school students envision a specific future for themselves, by interacting with role models of university students and female researchers and engineers working at companies with advanced technologies.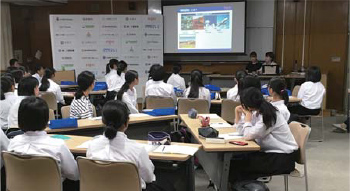 Establishment of the "ESPEC Smile Club" Employee Participation-based Donation System
In December 2020, as an aspect of our SDGs promotion activities, we established the "ESPEC Smile Club," a matching gift system* where the company adds donations to employee donations. In this club, employees who agree with the purpose become members and each makes a donation of 100 yen every month, and the company adds to these to donate to organizations that carry out social contribution activities related to children and medical care.
* This is a mechanism whereby, when a company solicits donations or contributions for the purpose of contributing to society, the company contributes to each donation by adding a certain amount or a certain percentage of the amount received.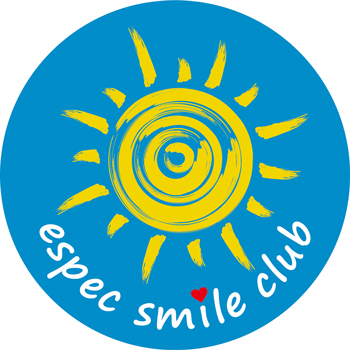 ESPEC Smile Club Logo
Donations to Disaster Relief Funds
ESPEC donated 500,000 yen to each disaster-stricken area as disaster relief funds through the Japanese Red Cross Society in order to help support persons affected by Typhoon 19 in October 2019 and torrential rains in July 2020 and to assist in the recovery of the affected areas.
Contribution to the University of Hyogo Support Program for Overseas Students
In order to help support foreign students who face difficult economic situations, we utilized the corporate version of the Hometown Tax System and contributed one million yen to the University of Hyogo support program for overseas students. This contribution will be used to help foreign students enrolled in the Global Business Course at the University of Hyogo School of Economics and Management with the necessary expenses for living in Japan (such as buying textbooks and computers).