Supply Chain Management
Aiming for a Better Relationship with Suppliers
Basic Policy
We build strong partnerships with our suppliers and put importance on mutual growth. In dealing with our suppliers, we comply with relevant laws and regulations. Based on a fair and equitable business relationship and from a global perspective, we procure — from Japan as well as from abroad — necessary materials and services after comprehensively evaluating criteria that include appropriate quality, price, delivery schedule, as well as consideration toward the environment.
Laws and Regulations: Understanding and Compliance
In procuring materials, we are taking various initiatives, including in-house training, in order to thoroughly comply with the "Act against Delay in Payment of Subcontract Proceeds, Etc. to Subcontractors (Subcontract Proceeds Act)."
Throughout fiscal 2019, we made efforts to prevent any misconduct and violations from occurring. We conducted regular independent audits on all applicable departments, and took necessary measures to address any matters of concern.
In addition, we held training sessions twice on the Subcontract Proceeds Act for the personnel in charge of purchasing materials and for supervisors of departments that deal with suppliers, as well as for sales department supervisors.
We are also working to reinforce the system for ensuring compliance with the Subcontract Proceeds Act throughout the ESPEC Group by means such as requesting that affiliated companies in Japan attend external training courses.
Business Continuity Management Initiatives
In order to minimize the impact on customers in case of unforeseen circumstances such as a natural disaster or the bankruptcy of a supplier, we regularly perform verification activities such as checking the actual metal molds which are part of our assets, and monitoring the business situation of business partners.
As part of supplier evaluations in FY 2019, in addition to QCDESM (Quality, Cost, Delivery date, Environment, Service, Management), we also evaluated suppliers for compliance and BCP (Business Continuity Plans).
We are also constantly practicing business continuity management (BCM) in accordance with the Disaster Confirmation Standards and Initial Response Methods that we have formulated.
This has enabled us to quickly ascertain the status of business partners and suppliers in the event of a disaster and the availability of important components, thereby minimizing the impact on production sites.
ESPEC Mutual Prosperity Meetings
Since 1981, we have been building mutual trust between our suppliers and our company, and, aiming at co-existence and co-prosperity, have held ESPEC Mutual Prosperity Meetings. We have worked to invigorate skill improvement training and QC Circle activities in order to improve quality strength, and these efforts have produced outstanding results. And We have introduced the ESPEC Excellent Supplier Award System to express gratitude to suppliers from whom we have received tremendous cooperation.
Green Procurement
In our efforts to promote green procurement among our material suppliers, we have formulated the ESPEC Green Procurement Standards as guidelines for evaluating environmental management initiatives, such as reducing the environmental load and complying with environmental laws and regulations. These standards are part of establishing an environmental management system that includes acquiring ISO14001 Certification. In fiscal 2019, we continued to provide on-site guidance for clients in order to expand the pool of clients that have earned Green Procurement Certification. As a result, a total of 123 suppliers were able to meet the certification standards, accounting for 95% of our registered parts.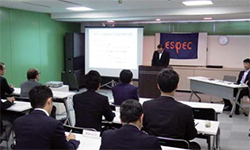 Green procurement Certification ceremony
Market Information Briefing Seminar
At ESPEC, we invite our key business partners to our Market Information Briefing Seminar. Through this seminar, we provide the necessary information — such as economic trends and order counts — for business partners to use during production, which allows us to work toward ensuring stable procurement.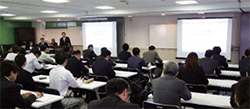 Market Information Briefing Seminar