Providing Products and Services that Contribute to a Sustainable Society
Creation of Environmentally Friendly Products (Eco Products)
Basic Concept
From early on, we have been interested in global environment conservation and have endeavored to address issues such as the reduction of power consumption during operation of our products, the proper use of chemicals, the reduction of the environmental burden caused by product disposal, and so on. As we continue with this approach to product design and development, we will clarify the environmental issues associated our main product of environmental test equipment, and keep developing environmentally-friendly products that address these issues. This basic policy is what our "Environmentally-Friendly Development Design Guidelines" are. Since issuing the first edition of the guidelines, we have been revising them to ensure they reflect the changing times and continue to form the basis for developing products that satisfy all requirements of safety, quality, price, the environment, and delivery schedule. We will continue to work toward contributing to society and customers through a product creation process that takes the global environment into consideration.
■Main content of the Environmentally-Friendly Development Design Guidelines
Management categories of Environmentally-Friendly Development Design (basic views)
Compliance with laws and regulations
Lifecycle assessment (procedures and evaluation, etc.)
Environmental labels (type and content)
Changing to Non-CFC Foam Heat Insulation
Following a revision of the Act on Rational Use and Proper Management of Fluorocarbons in April 2020, refrigerators and freezers using rigid polyurethane foam have been added to the designated products, and these products must be labeled with the types and amounts of CFC used and the degree of environmental effects. ESPEC began changing to non-CFC rigid urethane foam in our products from 2018, aiming to reduce emissions of greenhouse gases. We completed the change to non-CFC foam heat insulation in all products by the end of FY 2019, 2 years ahead of the initial plan target of 2021. This reduces to zero the 121 t (FY 2019 result) of annual greenhouse gas emissions in the foaming process, and also eliminates the CFCs that remained in some products and were emitted over a prolonged period.
Improving the Ease of Product Dismantling
Our products are manufactured using metal and resin. It is difficult to separate these materials at the time of disposal, which places a burden on waste disposal sites. Recycling aspects are considered right from the development stage, and new products and model changes with designs that are easy to disassemble or separate, or which feature resin components with identification markings are gradually being rolled out.
Increase in the number of environmental test chambers that use low-GWP refrigerants
We pursue the development of environmental test chambers that use low-GWP (global warming potential) refrigerants, which have less of an impact on global warming. In July 2017, we released the TSA series of Thermal Shock Chambers (water-cooled type), and became the first environmental test chamber manufacturer in japan to commercialize products that use a low-GWP refrigerant, R-449A (GWP1397), which complies with the EU F-gas regulations. As we are expanding our lineup of Environmental Stress Chambers and other products, we now offer 136 product models with low-GWP refrigerants. We plan to complete the change to low-GWP refrigerants in all products by the end of FY 2020.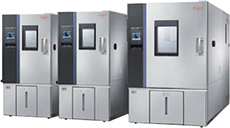 Environmental Stress Chamber
AR series
(Rapid-Rate Temperature
Cycle Type)
ESPEC certification criteria for a low GWP refrigerant
The criteria to obtain the [Low GWP Label] are a GWP under 2500 and, depending on the refrigerant type, determined as usable in our company's chambers, within all the refrigerants developed as a low GWP refrigerant.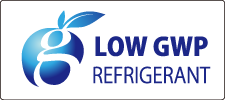 Certified low GWP refrigerants (as of September 12, 2018)
R449A (GWP 1397) <Alternative refrigerant for R404A (GWP 3920)>
R452A (GWP 2141) < Alternative refrigerant for R404A (GWP 3920)>
R448A (GWP 1387) < Alternative refrigerant for R404A (GWP 3920)>
* The GWP is based on the IPCC Fourth Assessment Report
ESPEC's Environmental Label "Green Product Label"
In fiscal 2009, with the aim of proactively disclosing environmental information with regard to the promotion of the development of environmentally-friendly products, we launched the "Green Product" category and instituted the "Green Product Label" system, which consists in affixing an environmental label to products that meet the prescribed environmentally-friendly certification standards.
The "Green Product Label" is equivalent to the environmental label (ISO/JISQ14021) for self-declared environmental claims "Type II" established by the International Organization for Standardization (ISO).
With regard to the "Green Product Label" certification, the Environmental Management Department is responsible for reviewing and deciding whether a product is approved and can use the label according to whether it meets the "Green Product Label" certification standards.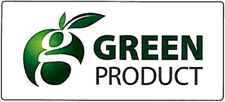 Green Product Label Certification Standards
Scope Subject to Selection

To be released on the Japanese market in or after April 2009.

Model change products, series products, and new products
Improvements on current models and new improved products
Products compatible with individual orders

Certification Standards

In comparison with the former model regarding power consumption, 15% energy saving or more is achieved. (When the operation pattern specified by ESPEC is used and compared with the former model)