Resource Recycling
Resource Recycling
Basic Concept
Working towards the creation of a recycling-oriented society, ESPEC is carrying out programs related to waste and product 3R (Reduce, Reuse, Recycle) in our business activities.
We also recognize that preservation of water resources is a critical global issue, and are engaged in a number of programs to reduce the amount of water we use and our wastewater is subjected to voluntary standards that are stricter than the law requires.
Reducing Waste
Aiming to achieve a 4% reduction (from FY 2017 levels) in the total amount of waste produced by our business activities in FY 2021, we are actively carrying out a number of programs including increasing the yield of sheet metal materials, using returnable boxes to reduce packing and cushioning materials associated with the delivery of materials and parts, and reducing the use of wooden pallets when parts are delivered.
As a result, we were able to reduce the amount of wood waste at the Fukuchiyama Plant by 7.1 t in FY 2019 (compared to FY 2018).
Product Recycling Service
We are operating a product recycling service based on our certification under the Ministry of the Environment wide-area certification system. We have been approved for the wide-area certification system by the Minister of the Environment and are operating a product recycling service. After entering into an Industrial Waste Entrustment Agreement with the customer, we collect environmental test chambers made by us but no longer used by the customer for a fee, and recycle it. We thus reduce the burden of the disposal procedure on the customer, and properly recycle the waste. In FY2019, we collected 396 products no longer used.
Preservation of Water Resources
In order to preserve water resources, we are carrying out water risk assessments, and actively working in our regular business activities to reduce the amounts of water used, recycle water, treat wastewater, and correctly manage wastewater quality. For wastewater, we have set voluntary standards that are stricter than the wastewater standards mandated by laws and ordinances, and have enacted complete management at each business site.
■Changes in the Amounts of Water Used(Consolidated※1)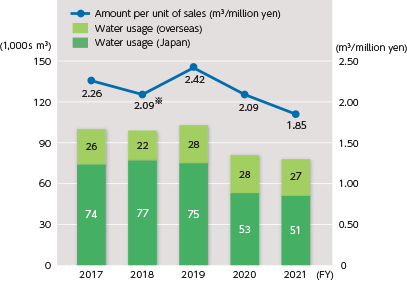 *1 Calculation range covers consolidated companies as of March 31, 2020. Calculation at 3 companies in the Japan group (ESPEC Test System Corporation, ESPEC Kyushu Corporation, and ESPEC MIC Corporation) started in FY 2016, so these companies are not included in the FY 2015 total.
*2 The settlement period of overseas consolidated companies was an irregular period of 15 months in FY 2018, so the figures per unit of sales (reference value) for FY 2018 are calculated for sales assuming a settlement period of 12 months at overseas consolidated companies.