Increasing Customer Satisfaction
and Product Quality/Safety
Product and Service Quality Assurance
Quality Policy
We provide environmental testing devices used by our customers in their QA(Quality Assurance) activities. As such, the quality of our products is directly linked to the quality of their products, and we feel that this heavy responsibility represents why we are in business. Based on our basic philosophy to "provide more reliable products and services that allow our customers to safely, comfortably, and surely fulfill the mission," we at ESPEC work towards creating high-quality products that meet the expectations of our global customers.
Quality Assurance System
We have established a unique system we called EQA (ESPEC Quality Assurance) in Japan and overseas.
In 1993, we were also assessed for and obtained the ISO 9001 (international standard of quality management) certification ahead of the competition. Following that, we completed ISO certification update in 2015, and we have been continuously improving our quality assurance system.
QMC Activities
We are shifting QC activities, which are mostly conducted at our production sites, to "small group activities" performed daily by all employees in order to improve customer satisfaction and create added value. These activities have been implemented as QMC (Quality Management Circle) activities.
Every year many small groups working on improvement activities, quality improvement and cost reduction, improvement of work efficiency, and other endeavors were able to achieve formidable results.
Improving Customer Satisfaction
The 4 Promises of our After-sales Service System for Safety and Security
So that customers can use our products with complete peace of mind, we provide after-sales service based on the following 4 Promises.
1.Fast service
We provide product and technical support using an extensive service network comprising 15 service facilities in Japan and distributors located in Japan and overseas.
In Japan, we operate a full-time technical support system that is available 24 hours a day, 365 days a year, for a rapid response in case of emergency.
2.Preventive maintenance plans
ESPEC offers an extensive range of preventive maintenance options so that customers can be confident in using our products over extended periods.
3.Long-term maintenance system
We have created a system that can supply maintenance parts for a period of up to 15 years, providing long-term support for our customers' environmental test chambers.
4.Safety system proposals
We provide peripheral equipment that can minimize damage in the event of an earthquake or other disaster.
Chamber Support to Resolve Troublesome Customer Issues
In FY 2019, we launched a new support system for management of work performed at customers' worksites. This allows customers to check the chamber maintenance history at any time from a smartphone or other terminal without having to contact our company. We will continue to develop advanced services that are helpful to the customers and provide solutions to the troublesome issues they face.
Providing After-sales Service Utilizing IT
Through the use of an electronic process management system for service engineers, we have constructed a mechanism that allows service engineers in nearby areas to quickly provide on-site support in the event of an emergency. Starting from June 2019, we have been operating a service that allows us to check chamber conditions at remote sites in real time and provide support for chamber work through the use of smart glasses, enabling rapid restart of testing.

Providing support for work by on-site service engineers while monitoring the chamber conditions at remote sites through smart glasses
Start of a New After-sales Service Certification System
We have introduced a new after-sales service certification system for service engineers in the ESPEC Group and at distributors in Japan and overseas in order to train service engineers equipped with advanced specialized technical skills. Certification is conducted in 3 ranks according to the acquired levels of skill, technical knowledge, and public certification.
Customer Support Desk
We have set up the Customer Support Desk as a system that provides one-stop solutions for issues arising in all types of scenes, from product purchasing to product disposal. It allows us to directly respond to a range of customer inquiries. We also conduct regular internal training on the proper way to respond to customers and product knowledge, so we can keep improving the quality of our customer response.
Launch of the Home-based Online Service to Support Customer Remote Working
In May 2020, we launched our Home-based Online Service that allows customers to conduct environmental testing from home. As remote working becomes increasingly common during the COVID-19 pandemic, we are supporting the development operations of our customers with remote test quality that is equal to tests performed in person.
Industry's First "Five-Year Product Warranty"
We have been offering the industry's first "five-year warranty" for five of our mainline products in Japan. The warranty covers free repairs for five years following the installation of our products. We provide customers with peace of mind through the services we offer as a company that possesses high-quality products and a solid service network.
<Five-Year Product Warranty>
Temperature & Humidity Chamber
Platinous J Series

Environmental Stress Chamber AR series

Thermal Shock Chamber
TSA Series
Bench-Top Type
Temperature
(&Humidity)Chamber
E Series Walk-In Type
Temperature (& Humidity) Chamber
Renewal of the Toyota Test Center
Extensive support for customer tests, including meeting various standards
In September 2019 we renewed the Toyota Test Center, which offers laboratory testing services. We offer extensive support for a wide range of customer tests, including international and industry standards for in-vehicle equipment, and the independent standards of manufacturers.
ESPEC Reliability Seminar 2020
The ESPEC Reliability Seminar is a means of providing useful information about reliability testing to customers. In FY 2020, the seminar was held online as a countermeasure against infections of the novel coronavirus, and was attended by 157 customers. At the seminar, our engineer gave a lecture on "Reliability Test of High-density Mounting Boards Using JTAG Test (Boundary Scan)," which is attracting attention as a test method for ensuring the reliability of boards for IoT/5G. Furthermore, as special lectures, Mr. Taniguchi, Deputy Manager of the Product Solutions Team, Embedded Development Division, Andor System Support Co., Ltd. talked about "IOT/5G Board Test Changed by JTAG," while Mr. Inagawa, CEO of Interstellar Technologies Inc. talked about "Trial and Error Under Development with the First Domestic Private Rocket."
Website for engineers, "Test Navi"
We have developed a website specializedin information on reliability technology for engineers called "Test Navi."It gives customers helpful information in practice settings, such as environmental testing knowledge, basic information on reliability technology, and the latest testing trends, at the appropriate timing. The number of members registered with "Test Navi" currently exceeds 19,000.
Exhibiting at the 12th International Automotive Electronics Technology Expo (Tokyo Big Sight)
In January 2020, we exhibited at the 12th International Automotive Electronics Technology Expo, one of the world's largest exhibitions dedicated to the field of automotive electronics, and our booth received a large number of visitors. At this exhibition, we introduced the complete ESPEC capabilities for supporting automotive quality based on the keyword CASE*. The exhibit explained our test systems for the automotive field, as well as other subjects including the Toyota Test Center that was reopened following renovations in 2019 and remote test management services using IoT.
* Acronym for Connected, Autonomous, Shared, Electric, expressing the new trends in next-generation automotive technologies and services
Exhibiting at Automotive Testing Expo. Europe 2019 (Stuttgart, Germany)
In May 2019, ESPEC and our distributor in Germany jointly exhibited at Automotive Testing Expo. Europe 2019, one of the world's largest expositions for automotive testing. We exhibited a temperature & humidity chamber with improved safety functions, and a thermal shock chamber designed for easy wiring connections to the test specimen. These chambers were designed to satisfy growing vehicle electrification testing needs. In addition to German companies, Automotive Testing Expo. 2019 also featured exhibits by companies from the U.S., China, Korea, and India, resulting in a global promotion that was conducted in cooperation with an overseas group company.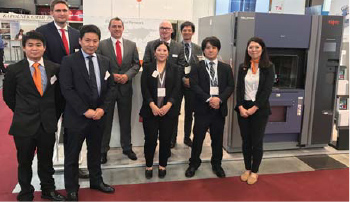 Automotive Testing Expo. Europe 2019