Message from the President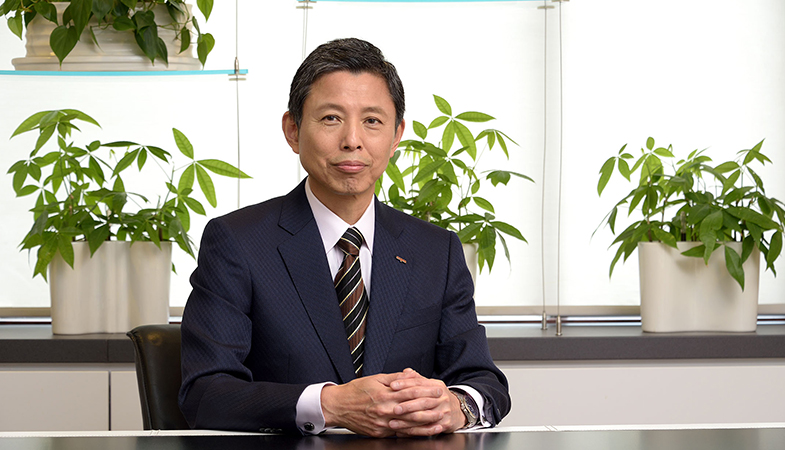 Thank you for your guidance and support for our company.
In fiscal 2020 (April 1, 2020 to March 31, 2021), the business environment grew severe with a global economic slowdown due to the spread of COVID-19 and restraint on capital investment among customers due to the sense of uncertainty regarding the future. In this situation, the Company strengthened its online sales activities and focused on capturing orders in the 5G and IoT-related markets, which were solid even in the COVID-19 pandemic, and in the automobile automation and electrification-related markets, where investment is expected to start again as automobile production volume recovers. Overseas, we have worked to expand sales, mainly in areas where economic activity has normalized at an early stage, such as China and Taiwan. Furthermore, we have been striving to develop business in the medical area by developing products suitable for COVID-19 vaccine transportation and storage. The Company's main customers have been making solid investments related to digitalization, and from the third quarter onward, investment activity appears to have restarted in the automotive-related market and other markets.
Consolidated financial results for fiscal 2020 were as follows. orders-received decreased 13.8% year on year to ¥37,580 million and net sales decreased 8.9% to ¥38,668 million. On the earnings front, decreased net sales saw operating profit fall 31.3% to ¥2,572 million and profit attributable to owners of parent decreased 30.4% to ¥1,961 million. Regarding the year-end dividend, since consolidated performance exceeded forecasts, we have decided to increase the amount to ¥41 per share, for an annual dividend of ¥51 per share.
The Company is making progress on its medium-term management plan, "Progressive Plan 2021" (fiscal 2018 to fiscal 2021); however, since the initial financial targets for fiscal 2021 (net sales ¥52.0 billion, operating profit ¥5.2 billion, operating profit ratio 10%) do not look likely to be achieved in the current situation, we have revised the targets. The revised targets for fiscal 2021 are net sales of ¥42.2 billion, operating profit of ¥3.3 billion, and an operating profit ratio of 7.8% (Revised on Aug. 6, 2021). profit attributable to owners of parent is estimated to be ¥2.4 billion. Regarding dividends, we plan to pay an interim dividend of ¥18 per share and a year-end dividend of ¥42, for an annual dividend of ¥60. With no current estimate of when the COVID-19 pandemic will be brought under control, the future continues to be uncertain. However, we will strive to recover our earnings by further strengthening our activities in the rapidly advancing markets for digitalization, such as 5G and IoT, and in the markets related to automation and electrification of automobiles.