Message from the President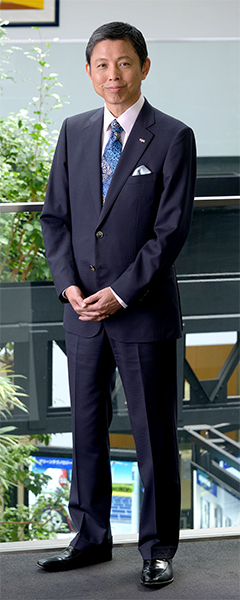 ESPEC's long-term vision, ESPEC Vision 2025, sets out our vision for the Company in fiscal 2025. To guide our progress towards this goal, we have been working on a series of four-year medium-term management plans (Stage Ⅰ through Stage Ⅲ).
Fiscal 2017 was the final year of our Stage Ⅰ medium-term management plan, Progressive Plan 2017, covering the period from fiscal 2014 to fiscal 2017. During the year, we took steps to expand sales in overseas markets, while working to improve the profitability of customized products, which are seeing increasing demand in the automotive market amid accelerating development of new technologies.
In the Company's consolidated results for the fiscal year, net sales amounted to ¥44,069 million (up 11.5% year on year), operating income was ¥4,602 million (up 41.9%), and profit attributable to owners of parent was ¥3,308 million (up 48.2%). We therefore surpassed our targets under Progressive Plan 2017 and achieved new record highs for net sales and profits.
We are planning to pay a year-end dividend of ¥38 per share (including a commemorative dividend of ¥1). This will bring the annual dividend to ¥58 per share (including commemorative dividends of ¥2).
We have now formulated our Stage Ⅱ plan, Progressive Plan 2021, covering the period from fiscal 2018 to fiscal 2021. This plan targets the automotive-related field, where the electrification of automobiles and the development of automated driving technology are advancing rapidly, and the IoT-related market, where all manner of household appliances and other devices are connected to the Internet. We are aiming to achieve stable and continuous growth through strategic investment and steady improvement of quality.
The Company's business performance may be adversely impacted by competition with European and U.S. environmental testing equipment manufacturers with large market shares and Chinese and Taiwanese manufacturers entering the market with low prices.

More details...