Financial Highlights
During fiscal 2019, the year ended March 31, 2020, the Japanese economy remained sluggish, mainly in manufacturing, as global economic conditions deteriorated due to U.S.-China trade friction. Along with this, the global economic outlook became increasingly uncertain toward the fiscal year-end as a result of the spread of COVID-19.
Of the company's main customers, semiconductor-related businesses made firm investments. However, customers in other sectors kept a cautious stance toward investment, showing signs of postponing or reviewing capital expenditures.
In this environment, the Company worked on strengthening the customization capabilities of its environmental test chambers, targeting the automotive and IoT-related markets, and on increasing sales of energy device products. The Company also focused on expanding sales in overseas markets, positioning Europe and ASEAN as key expansion regions.
Consolidated financial results for fiscal 2019 were as follows: orders-received was ¥43,571 million and net sales were ¥42,443 million. On the earnings front, operating income amounted to ¥3,742 million, mainly due to a decrease in net sales and a deteriorating cost of sales ratio. Profit attributable to owners of parent was ¥2,818 million. The impact of the COVID-19 pandemic on results was negligible.
Financial Highlights (Consolidated)
2016/3

2017/3

2018/3

2019/3

2019/3

(Reference)

2020/3

Orders-received
(Millions of Yen)
39,903
40,289
44,775
50,698
48,008
43,571
Net sales
(Millions of Yen)
39,035
39,507
44,069
50,580
47,060
42,443
Operating income
(Millions of Yen)
3,521
3,243
4,602
5,827
5,470
3,742
Ordinary income
(Millions of Yen)
3,570
3,171
4,746
5,851
5,493
3,933
Profit attributable to owners of parent
(Millions of Yen)
2,410
2,233
3,308
4,289
4,030
2,818
Total assets
(Millions of Yen)
48,045
49,044
54,588
57,359
-
57,461
Net assets
(Millions of Yen)
35,633
37,049
39,943
42,088
-
42,731
Earnings per share
(Yen)
104.75
97.85
144.76
187.65
176.32
123.26
Book value per share
(Yen)
1,564.55
1,621.00
1,747.46
1,841.30
-
1,868.77
Return on assets
(%)
7.5
6.5
9.2
10.5
9.9
6.9
Return on equity
(%)
6.8
6.1
8.6
10.5
9.9
6.6
Shareholders' equity ratio
(%)
74.2
75.5
73.2
73.4
-
74.4
Orders-received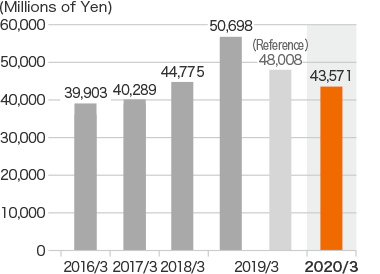 Net sales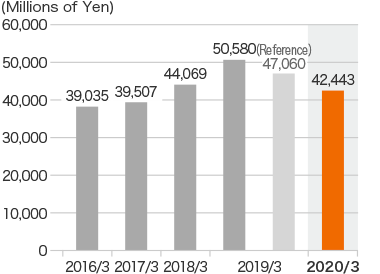 Operating income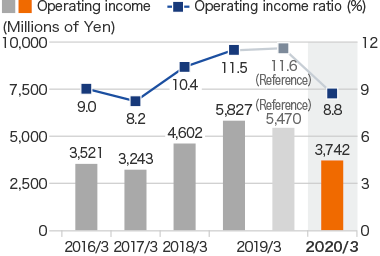 Ordinary income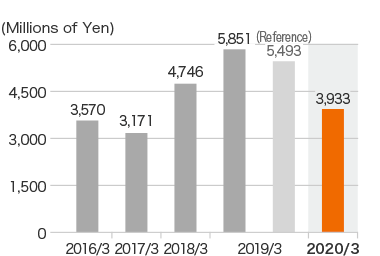 Profit attributable to owners of parent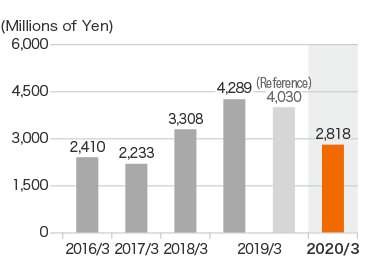 Total assets / Net assets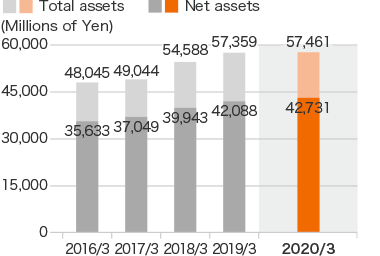 Earnings per share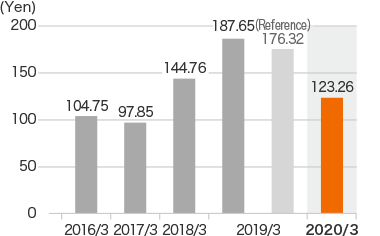 Book value per share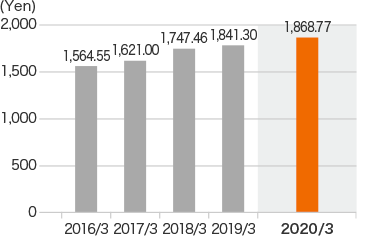 Return on assets
Return on equity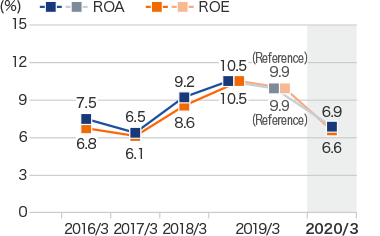 Shareholders' equity ratio