Performance by Business Segment / Sales by Region
Performance by Business Segment
Equipment Business
Provides environmental test chambers for testing the impacts that temperature, humidity and other environmental factors have on electronic components and other industrial products. ESPEC also provides other product lines such as energy device equipment for evaluating reliability of secondary batteries, burn-in chambers for testing semiconductors and measurement systems for assessing electrical properties of semiconductor and electronic components.
Service Business
ESPEC provides a wide-range of services including after-sales and engineering services for all of our products, laboratory testing services for conducting testing for our customers, and rental of our products.
Other Business
ESPEC is actively engaged in environmental engineering businesses through reforestation, waterfront development, and urban-greening projects, and the plant factory business by providing devices for controlled growing of vegetables.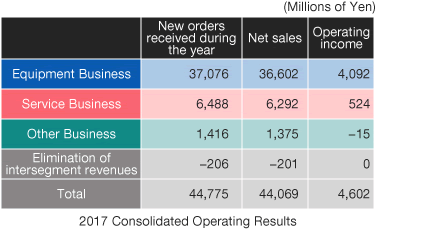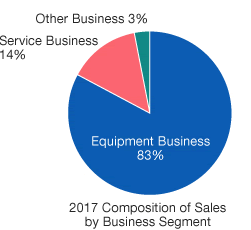 Sales by Region
2014/3

2015/3

2016/3

2017/3

2018/3

Japan
(Millions of Yen)
19,846
20,051
22,962
22,843
24,581
Korea
(Millions of Yen)
1,232
1,173
1,339
1,609
1,861
Taiwan
(Millions of Yen)
428
612
918
1,094
1,057
China / Hong Kong
(Millions of Yen)
4,512
4,745
5,960
6,010
6,863
Southeast Asia
(Millions of Yen)
1,003
1,177
1,989
1,952
2,208
Europe & the USA
(Millions of Yen)
4,656
5,188
5,544
5,671
7,174
Other
(Millions of Yen)
418
710
319
323
321
Total
(Millions of Yen)
32,099
33,661
39,035
39,507
44,069
Sales by Region