Contribution to Society
Communication with Society
19th Ceremony of the ESPEC Foundation for Earth Environmental Research and Technologies (public trust)
Public Trust "ESPEC Foundation for Earth Environmental Research and Technologies"
In 1997 we celebrated the 50th anniversary of our foundation and also set up the charitable trust "ESPEC Foundation for Global Environment Research and Technology"; fiscal 2017 marks 20 years since its establishment. This foundation funds research and technological development related to global environmental preservation, as well as education and enlightenment on reforestation. It has been involved in 202 projects so far and disbursed a total of ¥105.22 million. In fiscal 2016, we funded 15 projects out of 136 proposals.
ESPEC Green School
We have opened the ESPEC Green School and is coordinating efforts to train environmentally-minded leaders. The school holds seminars and events throughout the country. It has provided education to a total of 8,800 students (as of March 31, 2017) through human resources certification projects based on the Environmental Education Promotion Law.
Letter of appreciation
● Presentation of Green Curtain as a Visiting Lecture at Schools Across the Country
At ESPEC Green School, we promote the prevention of global warming by growing bitter gourds in front of windows. We go to different schools all over the country to present this Green Curtain project. In 2017, 1,497 children from 25 schools participated in our Green Curtain project. In June, classes were held at three elementary schools in Karakuwa-cho, Kesennuma City, Miyagi Prefecture.
After learning about the effects of the green curtain and how bitter gourds can easily be grown, the participants actually planted about 100 bitter gourd and sponge gourd seedlings. Also, since 2014 we have been working with Hanyu City in Saitama Prefecture on activities to promote the prevention of global warming through the Green Curtain project held at elementary schools. This project is run through the ESPEC Green School as a visiting class held at schools nationwide. The schools in Saitama Prefecture participating in the Green Curtain project have been recognized for their environmental conservation efforts, including receiving an Excellence Award at the Saitama Prefecture Exhibition for the Promotion of Science Education. Our initiatives have been praised for contributing to the promotion of environmental education in Hanyu City, and we have also received a letter of appreciation from the Mayor of Hanyu City in recognition of our efforts.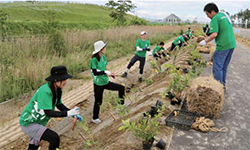 ESPEC employees planting trees as volunteers
Tree-planting at the Millennium Hope Hills in Iwanuma City in Miyagi Prefecture
In May 2017, 30 ESPEC employees volunteered in the Millennium Hope Hills Flower Lane Tree-Planting Society in Iwanuma City in Miyagi Prefecture. Millennium Hope Hills is a forest seawall made by planting trees for 10km across the shoreline of Iwanuma City. The city is working on preparing the whole area, including Millennium Hope Hills, as a memorial park that can teach future generations the lessons learnt from the natural disasters that occurred there, and also preserve the memories of those disasters. ESPEC donated 140 Japanese rose shrubs, and also helped to plant the shrubs across a roughly 1km-long pedestrian path. ESPEC MIC Corp. has been assisting in the tree-planting program at Millennium Hope Hills every year since 2013, during the annual tree-planting festival held there; however, 2017 is the fifth and final year of the festival. During those five years up to 30,000 volunteers — including 121 ESPEC employees — planted about 270,000 seedlings at Millennium Hope Hills.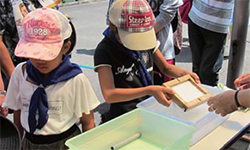 ESPEC environmental festival
Each year ESPEC Utsunomiya Technoplex (UTC) holds an environmental festival to raise environmental awareness in the community. Around 70 locals, including elementary school students, attended the festival held in August 2016. Everyone at the festival had fun learning about the environment through various activities, such as test-riding a solar car, making postcards using a paper maker, and playing a garbage sorting game.
Supporting Earthquake Recovery and Reconstruction in Kumamoto
To support Kumamoto's recovery from severe damage caused by the April 2016 earthquake, about \500,000 was donated to the affected area through the Japanese Red Cross Society.