Top Message
To All Our Stakeholders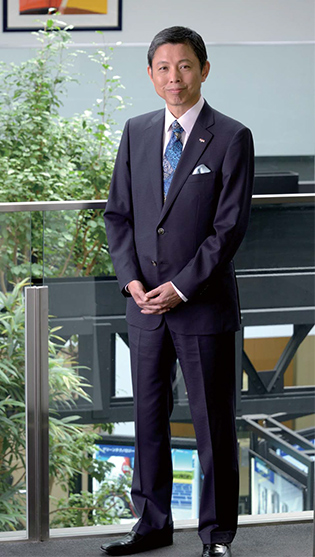 * In the 2nd-floor corridor of the Head Office.
The international society is now beginning to move significantly toward realizing a more sustainable society. The UN's Sustainable Development Goals (SDGs) are laying down roots and we are seeing a growth in ESG investments that place an emphasis on non-financial information relating to the environment, society and governance. ESPEC too is making efforts with SDGs in mind, and it is my hope that we will contribute to the sustainable development of society through our business activities, making free use of the Environmental Creation Technology that is one of our company's strengths. In March of this year, we decided on the "ESPEC Vision 2025", which envisions the future of our company based on our relationship with our stakeholders. This document lays out the promises ESPEC hopes to keep to all of our stakeholders including customers, shareholders, employees, client companies and the regional society. Going forward, we will continue to strengthen our engagement with the stakeholders based on this.
This fiscal year is the beginning of the medium-term management plan's "Progressive Plan 2021" (planned implementation period: FY2018 – FY2021), a step toward the realization of the ESPEC Vision 2025.
With a basic policy of stable sustainable growth through strategic investment and steady "improvement of quality, we are setting out to create products with a high added value, with qualitative improvement of both human resources and technology, and projects that have a high value exchange. Furthermore, we have established the Seventh Mid-Term Plan on the Environment (planned implementation period: FY2018 – FY2021), and are working on concrete measures under 5 themes, to provide products and services that will contribute to mitigating global warming, to decrease our environmental burden, to protect biodiversity, etc.
In addition to the unification of employees and management to create a corporate culture filled with life, we are promoting diversity with a wide variety of people, and proactively working to create an environment in which employees can use their unique strengths.
ESPEC will continue in the future to work to become a presence that is required by both people and society by increasing the value exchange with you our stakeholders.