Preserving biodiversity
Relation to SDGs
Sustainable Development Goals website

Initiatives for preserving biodiversity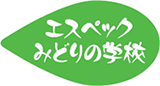 ESPEC Green School
Training Seminar for Leaders the Creation of Forests
Training Seminars for Leaders on the Creation of Forests Since FY2011, we have been using ESPEC Forest* as a training site to hold, with the support of Kwansei Gakuin University, "ESPEC Green School, Training Seminar for Leaders to Promote the Creation of Life-Saving Forests."
This seminar, which consists of classroom lectures and practical training, is held four times a year (spring, summer, autumn, and winter) and is part of the curriculum of Kwansei Gakuin University.
From fiscal 2017, we will be promoting the preservation of biodiversity through the creation of life-saving forests to an even wider audience, by opening participation in the seminars to not only Kwansei Gakuin University students but also company employees in charge of environmental conservation, NPOs, NGOs and the general public.
* ESPEC Forest: Forest grown from native seedlings originally found on the premises of Kobe R&D Center.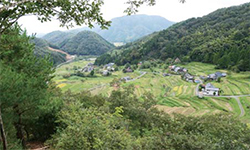 Idyllic terraced rice fields of Kewara
Kewara Forest Creation Initiative
ESPEC has signed an agreement for the usage and preservation of forests with the Kewara community association in Ōe Town in Fukuchiyama City, and together we are working to preserve forests in the area through the Kewara Forest Creation Initiative. Over 1,000 people have taken part in the Kewara Forest Creation Initiative in the 10 years it has been running. We will continue with our preservation activities to protect the lush natural surroundings of Kewara and make its forest area even more beautiful, such as creating a walking course and adding other features.
Building Awareness for Damage Caused by Animals
In recent years, there has been a serious increase in forest damage caused by wild animals. Among other damaging activities, deer eat and destroy agricultural crops and peel off the bark from trees to eat it. Since 2013, the employee cafeteria of the Fukuchiyama Plant has offered a lunch menu that sometimes features wild venison caught locally.This initiative aims to make employees think about damage caused by wild animals as an issue that also affects them. By fiscal 2017, this particular menu was served 29 times to 902 employees.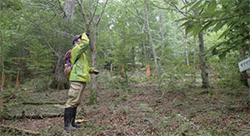 Diagnosis study of Kigyo no Mori forests
Development of a diagnosis program for Kigyo no Mori forests and green areas
Together with ESPEC MIC Corp., we have developed a new program which aims at providing a diagnosis on Kigyo no Mori (forest of companies) and green areas and provide advice on future biodiversity conservation activities. It is possible to identify the unique charm and challenges of such areas from the perspective of nature restoration experts and create an action plan that can best support such restoration. Services will be provided as a simple program that is easy to implement so that it can be used to spearhead biodiversity conservation activities and support company initiatives.