Highly Accelerated Stress Test System (HAST) Wins 2018 Good Design Award
Oct. 22, 2018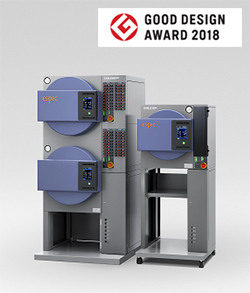 Highly Accelerated Stress Test System (HAST)
On October 3, ESPEC's Highly Accelerated Stress Test System (HAST) received a Good Design Award at the 2018 Good Design Awards organized by the Japan Institute of Design Promotion. This award marks ESPEC's 28th Good Design Award,and the fifth for the Highly Accelerated Stress Test System.
This system is used to evaluate electric/electronic component service life in a short time through three stress tests: high temperature testing, high humidity testing, and high pressure testing. A model redesign in November 2017 greatly increased the usability of the system through improved operability and visibility thanks to a new touch-panel color LCD controller, and simplified wiring thanks to color coding of the specimen signal terminals. In addition, network functionality was included, allowing for remote monitoring and operation of the test system via a PC or other device. This year's award highlights the system's noticeable improvements to ease of use.
Product information for Highly Accelerated Stress Test System (HAST)
Selection of past award-winning products
Contact Details:
Corporate Communication Department
ESPEC CORP.
E-MAIL: ir-div@espec.jp