Bench-top Type Temperature (and Humidity) Chamber Wins 2014 Good Design Award
Oct 2, 2014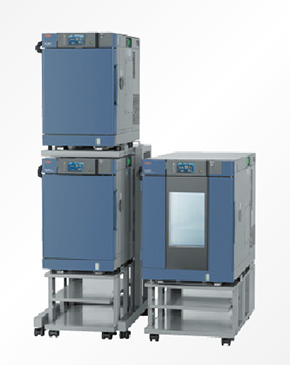 On October 1, ESPEC's bench-top type temperature (and humidity) chamber received a Good Design Award at the 2014 Good Design Awards organized by the Japan Institute of Design Promotion. The prize marked ESPEC's 27th such award.
The award-winning model is a small environmental test chamber for use in research laboratories, offices, and other locations. Achieving both compact size and high performance, it is one of ESPEC's mainstay products. Since its release in 1994, the bench-top type temperature (and humidity) chamber has sold more than 14,000 units. In November 2013, the lineup was updated to increase the ease with which customers are able to conduct environmental testing.
In the latest awards, the product was commended for its compact functionality that provides a user-friendly experience for the researchers and engineers who are its main users, and for the unified style in which the main unit and its diverse range of options have been designed.
■Selection of past award-winning products