World's First
Introducing the Environmental Stress Chamber AR Series
Featuring R-473A Low-GWP Refrigerant for a Reduction in Greenhouse Gas Emissions over the Product Lifecycle and up to 21% Energy Savings
Apr. 15, 2022
ESPEC CORP. (Head office: Kita-ku Osaka City, Representative Director and President: Satoshi Arata) released the Environmental Stress Chamber AR Series Rapid-Rate Temperature Cycle Type featuring R-473A, the world's first low-GWP (Global Warming Potential) refrigerant*1 on April 1, 2022. This series achieves a large reduction in the GWP value, and energy-saving operation while securing a performance by utilizing original ESPEC technologies. It helps reduce GHG emissions over the full product lifecycle. As the top global manufacturer of environmental test chambers, ESPEC is working to create environmentally friendly products and services, and to reinforce our approach to preventing global warming.
■Featuring the R-473A Low-GWP Refrigerant to Reduce GHG Emissions over the Product Lifecycle
R-473A is a new refrigerant that replaces the R-23 low temperature-side refrigerant in cascade cooling systems to create super low-temperature environments. It is 88% lower GWP than R-23. By utilizing original ESPEC technologies that take full advantage of the characteristics of R-473A, it is possible to reduce the refrigerant charge amount. It also reduces power consumption during operation (maximum 21% reduction) while maintaining the same performance as previous models. In addition, the use of ESPEC environmental control technologies makes it possible to reproduce super low-temperature environments of -70°C which was previously difficult to achieve.
We choose refrigerants from a comprehensive perspective that includes the refrigerant GWP value, the amount of refrigerant used, and the effects on the amount of power consumed. We are also offers a product recycling service and CFC gas recovery service.
Image showing reduction in emissions of GHG during use by the customer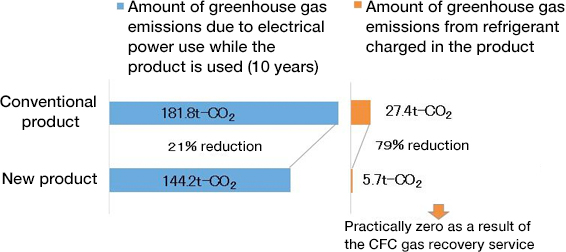 ■Growing Demand for the AR Series, Especially for Advanced Technology Fields
The AR Series are chambers that evaluate the durability of specimens in response to rapid changes in temperature. Demand for such testing has been recently growing in Europe and Japan, particularly in the fields of electronics and advanced automotive technologies. We are moving forward so that we will be able to sequentially convert all of our primary products to the new refrigerant during FY 2023.
Environmental Stress Chamber AR series
Rapid-Rate Temperature Cycle Type (5K/min)
Temperature (& Humidity) Range: -70~+180℃、10~98%rh
Capacity: 680L、1100L
*1 GWP
Acronym for Global Warming Potential. This number uses carbon dioxide as a reference to express the degree of global warming effects of other greenhouse gases. A lower value indicates a smaller environmental impact.
■Primary Efforts Aimed at Reducing Greenhouse Gas Emissions over the Full Product Lifecycle
Product procurement
Manufacturing
Transport

Completion of the change to non-CFC foam insulation in all products (FY 2019)
100% renewable energy used at plants in Japan*2 (FY 2021)
Carrying out a modal shift in transport (utilization of rail transportation)

Product use

Development and sequential installation of new cooling systems for up to 70% energy savings (FY 2009)

Expansion of environmental test chambers using low-GWP refrigerants (starting from FY 2017)

・Replacement of high temperature-side refrigerant R-404A with low-GWP refrigerant R-449A (Completed in FY 2021.)
GWP value 1397 (AR4): Approximate 64% reduction from 3920 GWP value of R-404A
・Replacement of low temperature-side refrigerants R23 and R508A with low-GWP refrigerant R-473A
GWP value 1830: Approximate 88% reduction from 14800 GWP value of R-23

Provision of commissioned testing services powered by 100% green electricity (FY 2021)
(70% use of renewable energy at ESPEC Group offices: As of April 2021)

Product scrapping

CFC gas recovery service*2 (FY 1995)
Our licensed Class 1 Fluorocarbon Charging and Recovery Specialists can also appropriately recover CFC and scrap products from other companies as well.

Product recycling service*2 (FY 2007)
This reduces burdens on customers for scrapping procedures, and promotes suitable collection and recycling of waste.
*2 In Japan Only.
■Features of the New R-473A Refrigerant
R-473A not only has a low GWP value, it is also a highly safe refrigerant that has been approved by ASHRAE in the United States and by the Japan Society of Refrigerating and Air Conditioning Engineers. A procurement network has been established, and stable global procurement is possible.
■Primary Products Featuring Low GWP Refrigerant R-473A
Scheduled for release in FY 2022

Environmental Stress Chamber
(AR series)

1.Rapid-Rate Temperature Cycle Type * (i) was released on April 1, 2022.
(i)Temperature Change Rate:5K/min
Temperature (& Humidity) Range:-70~+180℃、10~98%rh 
Capacity:680L、1100L
(ii)Temperature Change Rate:10K/min 
Temperature (& Humidity) Range:-70~+180℃、10~98%rh
Capacity:1100L
(iii)Temperature Change Rate:15K/min
Temperature (& Humidity) Range:-70~+180℃、10~98%rh 
Capacity:680L

2.Standard Type
Temperature Change Rate:4K/min
Temperature (& Humidity) Range:-75~+180℃、10~98%rh
Capacity:220L、390L、680L、1100L

Rapid-Rate Thermal Cycle Chamber

Air to Air Thermal Shock Chambers
TSA series

Thermal Shock Chamber TSD (Elevator type, two zones)
Scheduled for release in FY 2023

Bench-Top Type Temperature
(& Humidity) Chamber

Platinous J Series Temperature
(& Humidity) Chamber
Contact Details:
Sustainability Management Department ESPEC CORP.

E-MAIL:ir-div@espec.jp