Selected for 2020 Global Niche Top Companies Selection 100
by Ministry of Economy, Trade and Industry (METI),
Following on from Fiscal 2013
Sep. 23, 2020
ESPEC CORP. (Head office: Kita-ku, Osaka, President and Representative Director: Masaaki Ishida) was selected as one of the Global Niche Top Companies Selection 100 for Fiscal 2020 by the Ministry of Economy, Trade and Industry (METI) on Jun. 30th, 2020. ESPEC was once again selected, following its selection in fiscal 2013.
Selection for the Global Niche Top Companies Selection 100 (set up in fiscal 2013) by METI is intended to recognize and commend companies that have a high market share in a niche sector and excellent international competitiveness. In the second program held in fiscal 2020, METI selected 113 companies that have prevailed in niche sectors in a challenging business environment and shifting international conditions. A total of 13 companies were selected as consecutive winners. Winners were examined by following evaluation criteria such as achieving both global share and profits, possession of unique and independent technologies, and playing an important part in supply chains.
Espec has the world's top market share in the field of environmental test chambers used to test the quality and performance of industrial products by artificially replicating environmental factors such as temperature, humidity, and pressure. Looking ahead, we aim to continue pursuing further growth in the global market as the world's leading company for environmental test chambers.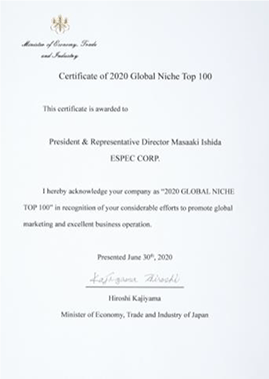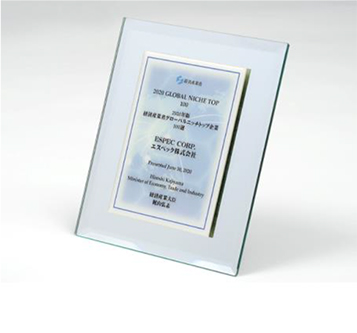 Certificate of Commendation and Supplementary Prize (Commemorative Plaque)
Contact Details:
Corporate Communication Department ESPEC CORP.
TEL:06-6358-4744 FAX:06-6358-4795
E-MAIL:ir-div@espec.jp