240-channel evaluation testing in 1 cabinet

Each DUT board has 5 sockets, and each oven can accommodate 8 DUT boards. Each socket can accommodate up to 2 DUTs to enable testing of 2 samples. Perform evaluation testing of up to 80 DUTs in 1 oven.
240-channel type
High-precision oven with a high temperature of 400°C

The oven can reach a testing temperature of 400°C, and it features outstanding precision with a distribution of ±2.5°C at 350°C. Mount up to 3 ovens in each cabinet to enable evaluation under different temperature conditions for each oven.
Wide current stress application up to 200 mA

Apply a stress current from 0.1 mA to 200 mA.
The socket accepts both 28-pin 600-mil and 300-mil.
Newly developed highly reliable board

The double contact configuration (patent pending) enables the connectors between the DUT board and sockets to be firmly fixed, and the unique ESPEC design ensures a solid connection of the DUTs and sockets.
The new configuration enables long-term evaluation under high temperatures and ensures high reliability.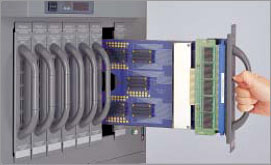 Pin assignment scramble function

The pin assignment scramble function of the ESPEC DUT board enables evaluation even for DUTs with different pin assignments.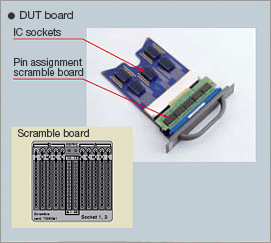 Recommended products for customers viewing this product