External Recognition
We have received recognition from various organizations in response to our environmental initiatives.
Environmental Management Survey
| | |
| --- | --- |
| FY | Ranking |
| 2017 | 71 |
| 2016 | 38 |
| 2015 | 48 |
| 2014 | 113 |
| 2013 | 77 |
Environmental Management Survey Results
We were ranked 71th in the "2017 Environmental Management Survey" organized by the Nihon Keizai Shimbun. Aiming at comprehensively evaluating corporate environmental measures, this survey attributes an Environmental Management Score based on the results of the survey for each company. Nihon Keizai Shimbun then publishes the ranking in its newspaper.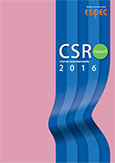 ESPEC receives the Excellence Award in the Environmental Communication Awards for the second consecutive year
In February 2017, our CSR Report 2016 was once again awarded the Excellence Award in the Environmental Report Category in the 20th Environmental Communication Awards, organized by the Ministry of the Environment and the general incorporated foundation Global Environment Forum. In addition to clearly communicating our current and future business activities, the CSR Report 2016 was appraised for its well-balanced and unbiased coverage of all CSR issues for each stakeholder, and for its Top Message section that mentions the Paris Agreement, which is an international framework on global warming mitigation measures, and the Sustainable Development Goals (SDGs), which are targets set by the United Nations for the international community to achieve.
Recent Awards
| | |
| --- | --- |
| Feb. 2017 | CSR Report 2016 awarded the 20th Environmental Communication Awards Environmental Report Category Excellence Award |
| Oct. 2016 | ESPEC MIC Corp and Rinno-ji Temple in Sendai city in Miyagi prefecture both received the Chairman's Award in the 36th Green City Award held by the Organization for Landscape and Urban Green Infrastructure. |
| Feb. 2016 | CSR Report 2015 "19th Environmental Communication Awards Environmental Report Category Excellence Award" |
| Mar. 2014 | eco Test Award 2013 "Eco Unit Grand Prize" |
| Mar. 2013 | Model Forest Movement Promotion Award "Kyoto Model Forest Association Board Chairman Award" |
| Jan. 2013 | 33rd Excellent Energy-Saving Equipment "The Japan Machinery Federation Chairman Award" (Platinous J Series Temperature & Humidity Chamber) |
| Feb. 2012 | eco Test Award 2011 "Eco People Grand Prize" |
| Jan. 2012 | eco Japan Cup 2011 "Culture Category Eco Music Jury Encouragement Award" |
| Dec. 2011 | 8th Eco-Products Grand Prize "Jury Chairman Special Award" (encouragement award) |