ESPEC's Contribution to Society
Companies are responsible for contributing to society via the theme they have selected.
The mission at ESPEC is to create more certain "Seikankyo" based on "Environmental Creation Technology." We at ESPEC have continued to support the development and reliability of the latest technologies for half a century.
Comprehensive Solutions for Environmental Testing
Our lives are surrounded by products and electronic products made with the latest and greatest technology. Incorporating new and better technology with each and every day, products continue their march toward further sophistication and complexity. This makes environmental testing all the more important to ensure the reliability of products and their components. In this field that is absolutely necessary to the development of the latest technologies, we not only provide testing equipment/devices, commissioned testing, and equipment/device maintenance, but also comprehensive solutions for environmental testing, e.g., product rentals. Our business covers a wide range of areas, i.e., we are not only involved in automobiles, electronic components, pharmaceuticals, and food, but also green technology such as secondary cells and fuel cell.
Environmental Testing Equipment/Devices
In line with a variety of purposes, we provide a wealth of environmental testing equipment/device product lineups that artificially reproduce environmental factors such as temperature, humidity, pressure, and vibration, as well as confirm industrial product reliability and durability.

Temperature (& Humidity) Chamber Platinous J Series
Green Technology Equipment/Devices
Our technology is finding its way even into green technology, which is receiving more attention in its relation to the prevention of global warming. As such, our products are serving to ensure the reliability of secondary cells, fuel cell used in electric and hybrid vehicles.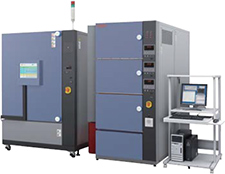 Advanced Battery Tester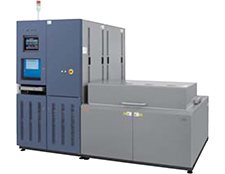 Power Cycle Test System
Commissioned Testing Service
We provide a comprehensive service that entails everything from the design/implementation of customer testing to analysis/evaluation, findings reports, and proposals.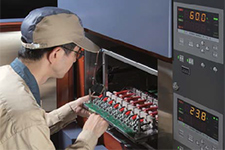 Semiconductor-related Devices and Measurement Systems
We offer a burn-in device that applies voltage/current stress at high temperatures on electronic components such as semiconductors to rapidly identify defective products.
We also offer systems that automatically conduct everything from test setting to assessment and analysis in order to assess the performance of electronic components.
Plant Factory
We have plant factories that can cultivate safe vegetables without pesticides/herbicides in a planned manner. Our plant factories have utilized environmental creation technologies for many years. They artificially control light, temperature, humidity and the like to ensure the growth of vegetables indoors. This effectively allows the factories to cultivate plants in a stable manner without pesticides or herbicides. Our plant factories are not only attracting attention domestically, but also from other countries throughout the world.
Pharmaceutical and Food Equipment
We offer stability testing devices for use in quality control of pharmaceuticals and food products.
Restoration/Creation of the Natural Environment
We are engaged in activities geared toward restoring and creating the natural environment, as is evident by our forest creation efforts in which we are planting vegetation native to particular areas, waterside creation efforts that return the natural waterways, urban forestation to prevent global warming, and from an ecosystem-based perspective.
Equipment Related to Aircraft
ESPEC provides equipment to test the reliability and durability of aircraft components under various flying conditions such as shocks, vibrations, heat, etc.
Global Power
ESPEC enjoys a huge market share in environmental testing and earned a high level of trust from customers from around the world for its superior-quality products and technological strength. We diligently pursue the needs of our customers, and in doing so, it makes it possible to aim at offering services that further increase their creativity. At ESPEC, we firmly believe that these efforts directly translate into a name that is trusted across the globe.
Furthermore, we have established a sales network that includes 13 group companies worldwide, and provide customers throughout the world with high-quality products and services. As a global company on the international stage, ESPEC is striving to become a company trusted by all.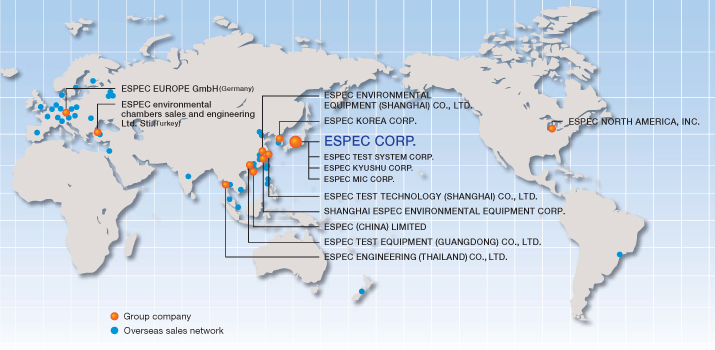 Head office (Osaka)

ESPEC NORTH AMERICA, INC.

SHANGHAI ESPEC ENVIRONMENTAL EQUIPMENT CORP.

ESPEC TEST EQUIPMENT (GUANGDONG) CO., LTD.

ESPEC KOREA CORP.